Warning: count(): Parameter must be an array or an object that implements Countable in /var/www/html/global_inc/aws/GuzzleHttp/Handler/CurlFactory.php on line 67

Chalet Spa Verbier - Verbier, Switzerland
Find a hotel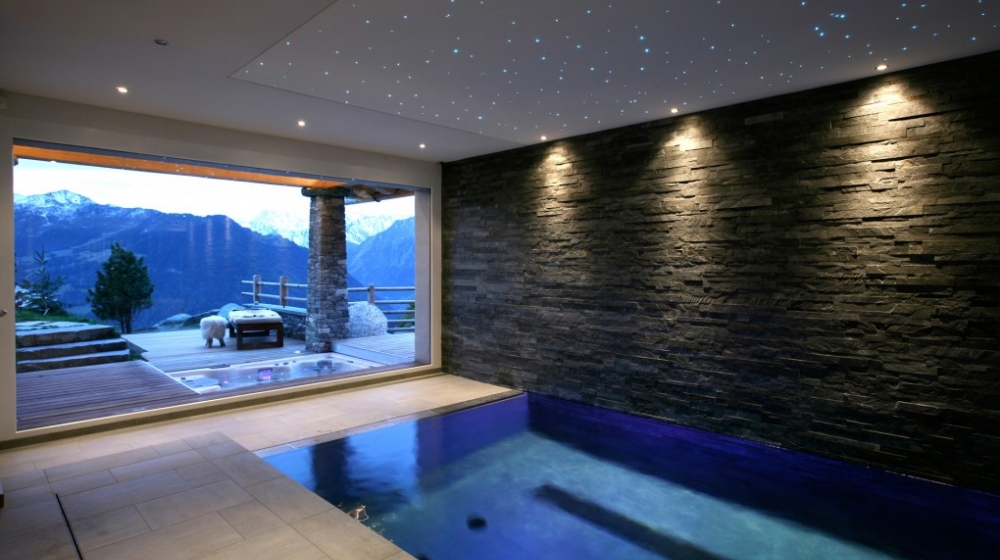 Rates from CHF 30,000 per night ·
Stylish Ski
· 5 rooms
Overview
Magnificent and exclusive, Chalet Spa Verbier is one of the world's best chalets with a contemporary design, spectacular spa and epic location with breathtaking views of the Alps. The attention to detail is superb with a highly trained team who will ensure that no request is left unanswered.
A short walk from the Savoleyres lift station and tucked away down a private road, Chalet Spa Verbier offers the convenience of a prime Verbier location yet the seclusion and privacy that you'd expect from an exclusive residence. Inside the property is resolutely modern yet still retains an authentic chalet flavour through the use of locally sourced natural materials, such as massive timbers and mountain stone.
For those who enjoy relaxing, there is a feature swimming pool with a huge glass window and an uninterrupted view of the Alps. There are indoor and outdoor private fitness zones, a hammam, sauna, massage room, jacuzzi and Canadian cedar wood hot tub. The pool converts to a volley ball court. The chalet's facilities include a glamorous private cinema, a games room and an enormous terrace with panoramic views.
Know Before You Go
Rooms:
Chalet Spa residences offer relaxing tranquil bedrooms with private bathrooms. The atmosphere in the bedrooms, as indeed throughout the chalets, is resolutely contemporary, with the emphasis on comfort, sophistication and hi-tech equipment.
5 bedroom (all en suite) including a beautiful penthouse master suite with king size bed, private terrace and minibar, with 4 further bedrooms which can be set up as king size or twin bedrooms.
The master suite on the top floor has an original glazed gas flame fireplace cut in the wall opposite the bed, and through the flames the view is to the mountain beyond.
Within the master suite is a luxury bathroom, with rain shower, a private jacuzzi bath with mountain views, and twin his and hers basin.
The residence has four more bedrooms located on the floor below the living room, where the spa and its majestic swimming pool can also be found. The entire floor opens onto a terrace with decking and grassed lawn, external fitness area and an outside jacuzzi under massive timber roof, with incredible views.
Two of the bedrooms on the spa level can be linked to create a family suite with 2 bathrooms.
All bedrooms benefit from access to the media centre, Sky TV, continental TV, ipod dock, safety deposit, handmade furnishings, polish down or non allergenic quilts & pillows, fine linens and cashmere throws
Facilities:
Air quality management system extending throughout the chalet and spa
Designer indoor infinity pool, with Siemens filtration system, avoiding the use of chlorine
Indoor & outdoor fitness facilities, with Technogym equipment, Concept 2 rower, Schwinn spinner, TRX etc
Sauna & hammam with eucalyptus feed
Massage/therapy room
Hot tub handmade out of Canadian cedar wood
Games room with billiard table and darts
Cinema room with minibar, blue ray high definition, media centre, apple TV, Sky HDTV, continental TV, ipod dock, games including SPS3, Nintendo XBOX 360, Wii
IPad control systems allow guests to adjust their environment from audio visual to shutters, access to security cameras, heating and lighting
The massive barbecue area provides a rotisserie BBQ and outdoor dining area with zone for relaxation
Variety of indoor & outdoor activities for guests
Guests have the choice of our chefs and staff or bringing their own staff
Security staff can be accommodated onsite in accommodation designed for this purpose
Features:
The living room is spacious with materials and colours offering the promise of complete relaxation and South, East and West facing panoramic views of the Alps. The central fireplace, an important architectural element underlining the rooms contemporary atmosphere, has a hearth level with the floor.
Much attention has been spent in designing the lighting throughout, to ensure a gentle mix of colour and light to create the perfect ambience throughout the day, inside and outside the property.
Designer swimming pool with a huge glass window and an uninterrupted breathtaking view of the Alps. Pool converts to a water polo court. Access to swimming tuition on request.
Chalet Spa residences benefit from the services of a professional, discreet and efficient team comprising a concierge, a chef, a team of therapists and chambermaids. The desire on the part of every team member is to create an intimate and "homely" atmosphere as part of a range of professional and personalised services.
Dining:
Available upon request:
Breakfast, lunch, afternoon tea and dinner at Chalet Spa prevailing rates (excluding preparation of one lunch and one evening meal on a nominated day for each week of stay). There is also an extensive range of exclusive wines, champagnes and spirits from which to choose from.
Activities
External terrace for yoga & pilates, with classes on request

Sauna & hammam

With more than 400 km of ski slopes, Verbier is a top attraction for skiers and snow boarders

Chalet Spa can also provide skiing instructors and personal mountain guides

The Summer season too offers a number of sporting activities, such as hiking, mountain biking and horse riding

Chalet Spa residences are ideally placed for holidays with kids. Many activities are available to delight children

Covered terrace housing a large jacuzzi

Open air separate Canadian cedar wood hot tub
Additional Information
Parking is provided underground for up to 6 cars and 2 cars over ground

Each Chalet Spa has at its disposal a 4x4 Mercedes 7-seater van with dark tinted windows for absolute discretion

Chalet Spa is also available for Summer bookings

The chalet can be extended to 7 bedrooms – in which case we include an attached 2 bedroom apartment – price on application for 7 bedroom basis subject to requirements

Therapists and beauticians, experienced high-level professionals, including international stylists to advise on personal makeovers are available subject to prior booking

Wine tastings: we will organize & host an evening designed around wine tasting for you and your friends in the comfort & privacy of Chalet Spa

Tennis: with tennis courts just a 5 minute walk from either chalet, where better than Verbier, surrounded by the Alps, to attend a tennis camp, or simply to practice and play &/or receive coaching from a tennis coach selected by Chalet Spa. Great for adults & children

Language &/or Music Tuition: let us help you &/or your children to learn or improve a foreign language &/or a musical instrument, with a private tutor in the comfort of Chalet Spa

Chalet Spa healthcare treatments can be adapted to guests' requirements. Treatments and à la carte massages (physio, sports, relaxation, hot stones care) are provided by a team carefully selected for Chalet Spa Verbier