Warning: count(): Parameter must be an array or an object that implements Countable in /var/www/html/global_inc/aws/GuzzleHttp/Handler/CurlFactory.php on line 67

Dreams Luxury Suites - Santorini, Greece
Find a hotel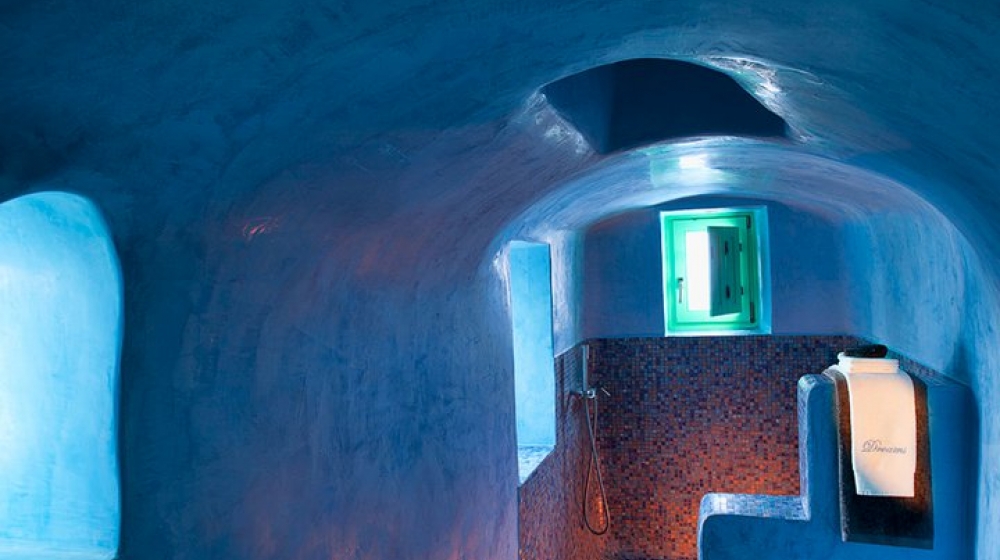 Overview
This cliff-top boutique hotel on the island of Santorini offers a new concept of sanctuary, with just four cool suites that have a unique and individual personality. Each luxury suite has a pool or jacuzzi with stunning sea views from its private terrace.
Dreams Luxury Suites is the place where style, opulence, and perfection meet a world of beauty and tradition. Our Luxury Suites, and the staff serving them are unique, and we are dedicated to making our guests feel unique too. If you are dreaming of rest, relaxation and tranquility in a stunning setting with truly personal service, then we can make your dreams come true. There's something rather special about Dreams...
Know Before You Go
Rooms:
White walls keep the suites cool and hot colours have been liberally sprinkled throughout, to give each suite a chic,stylish look and feel.
Nefeli: Decorated in Aegean hues, this Suite comprises a panoramic patio with an outdoor heated Jacuzzi overlooking the sea - just for two. Nefeli has a domed living room with built-in sofa bed, an open plan bedroom with queen size bed and a kitchenette. The spacious bathroom has jeweled tones of blue accented by gold.
Orfeas: This Suite is a paradise consisting of a plush living room with two built-in sofa beds, a separate bedroom with a king size bed, an old traditional kitchenette and a really impressive oversized en suite green bathroom. Treat yourself by enjoying a paradise cocktail from within your private Infinity Swimming Pool embedded on the exquisite terrace.
Armonia: Where luxury and comfort live in perfect harmony.
Cool off in your private Infinity Swimming Pool or chill-out in the plush living area. This suite also has a kitchenette, a cave bathroom decorated in the colours of the sea, together with a queen size bed bedroom.
Foivos: This suite is the essence of luxury. The Pool is embedded into the terrace overlooking the deep blue sea. In the evening, this superb view becomes even more magnificent as it basks in the intense colours of the infamous Santorini sunset. Enjoy the romance of the candle lit alcove and relax in the essence of calm. Inside the suite there are two queen size bed bedrooms and an inviting living room. The comforts of Foivos are completed by two spacious bathrooms.
Facilities:
Room Service
Twice daily maid service
Porter service
Wi-Fi Internet access in all common areas
Candlelight dinners
Massage and beauty therapies
Manicure & pedicure services
Hairdresser services
Car and 4-wheeler rentals
Private and semi private cruises & excursions
Transfer arrangements
Features:
On the highest point of the famous Caldera, nestled in the heart of the colourful volcanic rocks, Dreams Luxury Suites offers a unique combination of privacy, bespoke luxury, and breathtaking views to the world's most beautiful Island and famous sunset.
Dining:
There is no restaurant but you can enjoy a delicious breakfast on your private terrace each morning.
Candle Light Dinners: In order to offer you the Ultimate Romance, five different Candlelight Menus are available for dinner in the privacy of your own terrace.
Activities
Private plunge pools or a jacuzzi

Stunning endless sea views

Massage & Therapies

Private candlelit suppers

Honeymoon and Romance Packages

There are several beaches dotted around the area and are only 5 mins away by car

Car and 4-wheeler rentals upon request

Fira town can also be accessed in less than two minutes by bus

Follow the path in the opposite direction and you will arrive at the beautiful traditional village of Oia

Private and semi-private cruises & excursions can be arranged
Additional Information
Breakfast included

Rates at Dreams Luxury Suites are per room per night for 2 guests including American champagne breakfast, taxes and service. Children up to 5 years old are free of charge.