Warning: count(): Parameter must be an array or an object that implements Countable in /var/www/html/global_inc/aws/GuzzleHttp/Handler/CurlFactory.php on line 67

Can Pardal - Ibiza, Spain
Find a hotel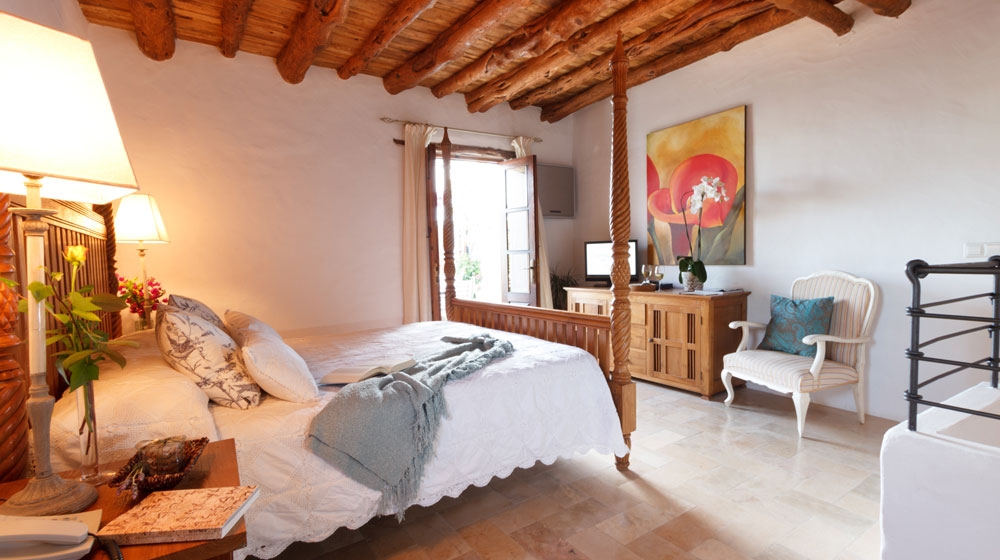 Overview
Can Pardal is a small and exquisite boutique hotel transformed from a 16th century typical Ibicencan house into a delightful retreat. This luxury hotel is the perfect choice for lazy days and cool sundowners.
Can Pardal has been decorated in a luxurious style which compliments the unique character of this location, and every detail has been considered to ensure your stay at this enchanting place is totally pleasurable. Pardal is located in the village of Sant Miquel in the north of Ibiza and offers pretty terraces and stunning views. Close-by are the beaches of Port de Sant and Benirrás, two of the most beautiful bays of the island of Ibiza.
Know Before You Go
Rooms:
Can Pardal has 5 exclusive rooms – all with en-suite bathroom facilities. Each room is uniquely decorated with great attention to detail, and your every comfort in mind. Almost all have a terrace and direct access to the garden.
The property comprises of a main house in which there are 2 bedrooms, all en suite a fully equipped kitchen and dining room plus a lounge with a large fireplace. The annexes comprise of three self-contained suites that have their own private entrance & terraces.
Facilities:
Swimming pool with sundeck
Wi-fi, library
Dining room with fireplace
BBQ terrace
Laundry services,
Massage a la carte by experienced personnel.
If there's anything else you need, or anything else we can do to make your stay with us even more enjoyable, just ask.
Features:
The exterior of Can Pardal includes a pool, sunny courtyard garden with fountain, bougainvillea, olive trees, fruit trees, and terraces with beautiful views – all combined successfully - so you can totally relax and enjoy the outdoor Mediterranean lifestyle during your stay.
Dining:
Dinners are served on request.
Activities
Swimming pool

Chilled relaxation

Enjoy sundowners on the terrace

exploring the village

The church is a must see during your stay
Additional Information
Computer hire

Tourist information

Not included in TOTAL booking price Breakfast from: € 12 :Buffet breakfast from: € 12 Set menu from: € 35 : Extra adult: extra bed: € 43.00/night

Check-in: 14h, Check-out: 12h Reception from 08:30 to 23:00

Beautiful beaches just a short drive away

Ibiza Town is only 18km away