Warning: count(): Parameter must be an array or an object that implements Countable in /var/www/html/global_inc/aws/GuzzleHttp/Handler/CurlFactory.php on line 67

UXUA Casa Hotel & Spa - Bahia, Brazil
Find a hotel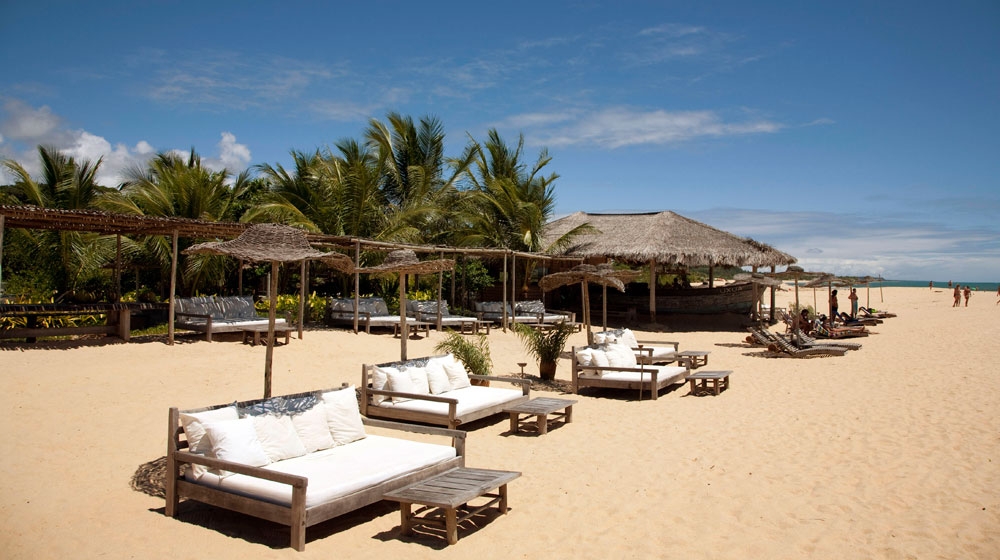 Overview
The UXUA Casa Hotel & Spa is an intimate boutique hotel in Trancoso, a small fishing village located on Brazil's desirable Bahian Coast. This skillfully conceived set of individual bungalows offers visitors a pure luxury retreat where rustic modernism meets southern Bahian and Indian influences.
UXUA Casa Hotel & Spa features ten unique casas which blend seamlessly into the historic center of Trancoso, a small fishing village on Brazil's idyllic southern Bahian coast.Four casas are restored fishermen homes facing the 16th century town green called the Quadrado, while six others are hidden in a lush private garden.
The casas were created by designer Wilbert Das in collaboration with local artisans using traditional building methods, reclaimed materials, and Brazilian antiques and art. The design blends rustic elements with contemporary comfort and roominess, and fuses in an innovative way indoor and outdoor living spaces to take advantage of a year-round, tropical climate.
Know Before You Go
Rooms:
At the UXUA Casa Hotel & Spa, the chic guest rooms are spacious and romantic, with vast vaulted ceilings and four-poster beds clad lavishly with muslin and fine silks. Beautiful antiques and one-off pieces adorn locally-crafted furniture, both indoors and out, and rooms are equipped with iPod docks, a surround sound system and WiFi access.
Facilities:
Spa, gym, library, DVD library, laundry service, in-room spa/beauty treatments. In rooms: flatscreen TV, CD/DVD player, iPod dock, king-size beds, free WiFi, dining table, air-conditioning, minibar, Natura toiletries.
Features:
Service is provided in friendly, Bahian style, including two restaurants specializing in traditional Bahian cuisine, a spa and gym, a unique swimming pool of healing aventurine crystals, and a spectacular beach lounge created from old fishing boats.
Dining:
Bahian cuisine, with its spices and abundant African influence, is revered in Brazil and gaining fame worldwide. UXUA's kitchens offer Bahian cooking with a very regional emphasis, and presented with the same joy and pride which food is served in any local home. Ingredients include produce from UXUA's own garden and other organic farms of Trancoso, as well as the freshest fish caught using traditional techniques.
Cooking in Bahia is a social event, and the hotel's main kitchen is an open structure featuring a counter with bar-stools where guests are welcome to sit and chat with the chefs, watch and learn, or just sample what's cooking.
Any meal can be enjoyed at the poolside restaurant or beach lounge, or can be taken seated at a rustic table on the Quadrado, or in-casa.
Nine UXUA Casas contain kitchens and guests can cook any time, if desired in the company of local chefs happy to teach the joys of Bahian cooking.
Activities
Priave beach

Sexy beach bar with huge sofas

spa

Gym

Cooking classes

Lush tropical gardens

Village on your doorstep
Additional Information
Breakfast included

ncluded in the Total Price: VAT 5%. Not included in the Total Price: Service Charge 10%, Local/Tourist/City Tax 3%. (When not included, local tax figures are indicative and may be subject to change at the hotel)

Extra adult: extra bed 30% night Extra child, 5 years & under : extra bed 30% night Extra infant, 2 years & under : free

Check-in from: 14h, Check-out until: 12h.