Warning: count(): Parameter must be an array or an object that implements Countable in /var/www/html/global_inc/aws/GuzzleHttp/Handler/CurlFactory.php on line 67

Riad Dar Les Cigognes - Marrakesh, Morocco
Find a hotel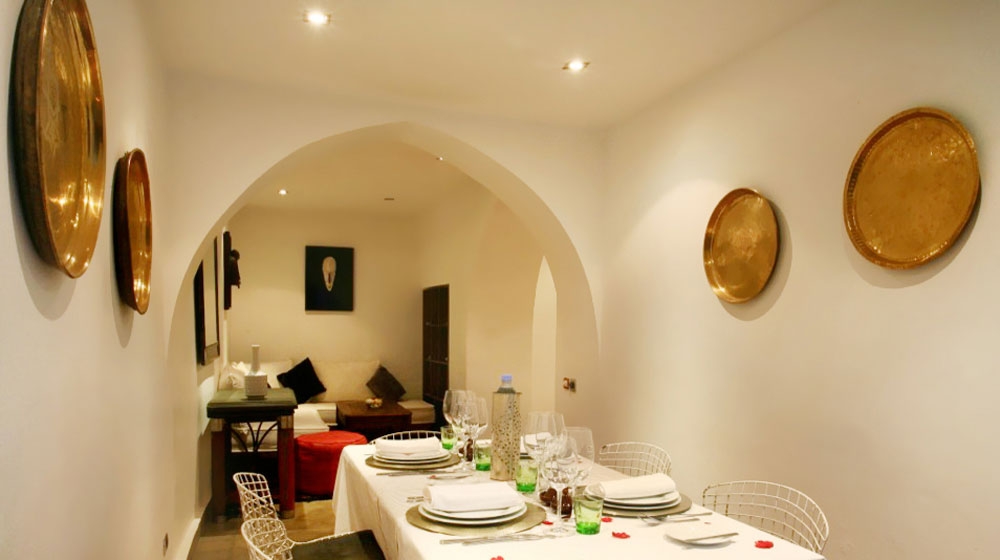 Overview
Dar Les Cigognes boutique hotel faces the gates of the Royal Palace in the heart of the historic medina. Marrakech is a chic destination, as much for its stylish riad houses and small hotels, as for its vibrant restaurant scene and nightlife. A chic hotel with bags of flair.
For centuries, a discreet door opposite the gates to Marrakech's Royal Palace led to a wealthy merchant's home. Today, behind that door, with the help of celebrity architect Charles Boccara, we have transformed two Riads into the luxury boutique hotel called Dar Les Cigognes. A stay at Dar Les Cigognes offers a rare glimpse into a world from 1,001 Nights, with all the comfort and luxury of a modern boutique hotel.
Special Offers
SAVE UP TO 20% OFF For Early Bird & Advanced Bookings
Know Before You Go
Rooms:
Each room is unique, drawing on the rich cultural heritage of Moorish art and décor. The bedrooms and bathrooms have been designed with the highest level of well-being in mind, and friendly and attentive service will make you feel at home.
Facilities:
11 guest rooms and suites.
Restaurant serving a daily-changing range of freshly prepared local dishes.
A concierge team dedicated to your comfort.
24 hour reception.
Indoor jacuzzi.
Honeymoon services.
Features:
Refined elegance and style are the hallmarks of this charming small Marrakech hotel. Dar Les Cigognes offers all the comfort and calm you would expect from a luxury boutique hotel, as well as the chic and charm of Moroccan style and fashion.
Dar Les Cogones is a sanctuary of hanging gardens, fountains, swimming pool, and traditional cuisine.
Dining:
We make almost everything from scratch: Delicious jams, breads, pastries, yoghurts, olive oil, and even source our honey from Berber mountain villages.
Whilst we do propose a range of dishes every day, guests may also request special choices to suit their own palates. With daily cooking classes, there is also the option to learn how to make each dish, in a comfortable setting, with one-on-one tuition with the kitchen staff.
Activities
Traditonal Moroccan Hammam and Jacuzzi

Boutique of carefully selected and made-for-us local handicrafts

Gorgeous roof gardens overlooking the Palace ramparts

Dar Les Cigognes an excellent base for exploring the city
Additional Information
Dar Les Cigognes is now a proud part of The Sanssouci Collection of Marrakech Riads along with sister properties Riad Kaiss and Le Nid

Le Nid is a private villa style riad with 4 bedrooms and suites is just around the corner from Dar Les Cigognes. t is ideal bolt-hole for small groups wishing to combine added privacy and intimacy with the benefits of full hotel service

Riad Kaiss is a stunning boutique hotel situated just steps from the Djema el Fnaa. Restored by well known hotel designer Christian Ferre, the hotel is made of two riads that were formerly part of the harem of the Bahia Palace. There are 9 rooms and suites

The Jemaa El Fna Square is a 10 minute walk away

The dining scene is increasingly cosmopolitan, with a great number of excellent French and Italian restaurants to complement the many Moroccan restaurants which offer everything from street food to the most opulent dining straight out of 1,001 Arabian Nights

There is no shortage of things to do and places to see; Marrakech is a playground for the senses

With our dedicated concierge team ready to help you plan out any aspect of your stay, we are standing by to help make your holiday in Marrakech an unforgettable one

100 metres from the Bahia Palace

Mosque of Bab Doukkala: 1.9 km

200 m to the Saadian Tombs.