Warning: count(): Parameter must be an array or an object that implements Countable in /var/www/html/global_inc/aws/GuzzleHttp/Handler/CurlFactory.php on line 67

Bukela Game Lodge - Eastern Cape, South Africa
Find a hotel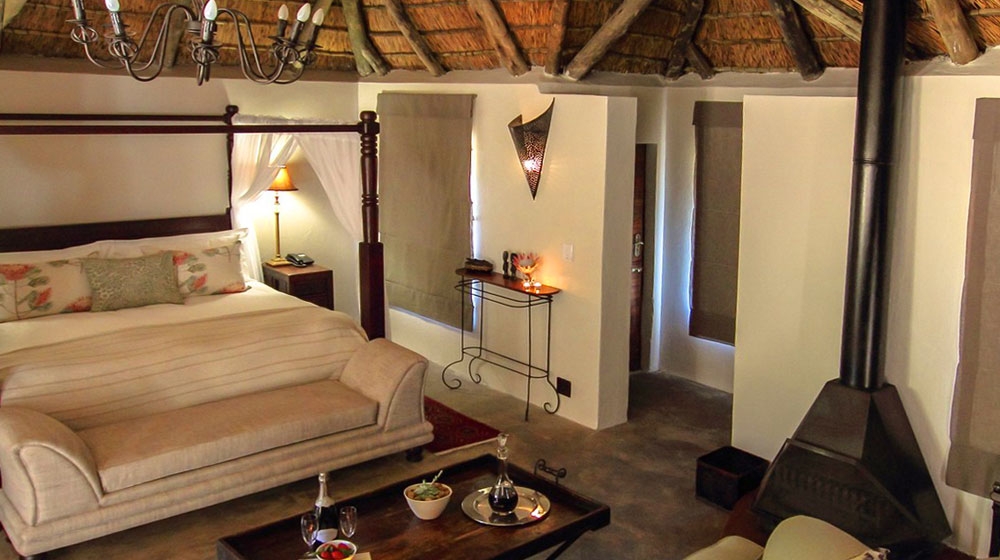 Overview
Located in the Eastern Cape, Bukela Game Lodge is a safari resort in the Amakhala Game Reserve. This 5-star hotel is situated at the top of a hidden valley and offers panoramic views of the surrounding indigenous wildlife. This boutique safari lodge hotel is a million miles from 9 to 5!
Connected by a wooden walkway, our thatched suites offer a remarkable private wildlife-viewing experience. Savour a crisp glass of wine in your sun-soaked spa bath, opening onto trees alive with birdsong. Indulge in sumptuous high teas, private candlelit dinners or exciting fireside boma dinners under African stars. And as you fall asleep, hear the silence broken by the unmistakeable sounds of elephant and buffalo, it's simply magical.
Know Before You Go
Rooms:
Accommodation at this tranquil Game Lodge is provided in four suites (3 suites and 1 honeymoon suite) each individually styled in African simplicity while never compromising on luxury. This secluded safari destination is tucked away into indigenous trees and bushes at the top of a hidden valley and has the perfect setting for the intimate and romantic guest experiences for which we are renowned.
Facilities:
Air-con
en suite bathrooms with spa bath
indoor and outdoor shower
central fireplace
private wooden deck
bar fridge
hot drink amenities
Media and library area
dining area
fireplace
Features:
Guests are greeted on arrival at Bukela with refreshing hand towels and served drinks on the pool deck overlooking a dam frequented regularly by a group of buffalo. Enjoy sundowners on the deck overlooking the cool pool.
Dining:
Morning Game Drives commence at 7:00am.
Guests are served coffee, tea and cereals, fruits, yoghurt, rusks in the main lodge half an hour before a game drive commences. The duration of a game drive is usually 3-4 hours depending on the amount of time spent stationary while viewing game. Game rangers will halt whenever requested and share their expertise with guests. Game rangers will also stop and allow guests to alight from the vehicle for a steaming cup of coffee which is traditionally enjoyed with rusks.
BRUNCH
On returning from the morning game drive, guests have 30 minutes at their disposal to freshen up before brunch is served. Breakfast/brunch is usually buffet style with a choice of fresh fruit as well as sweet pastries, toast and jams. Bukela's talented chef will cook eggs to preference which are served with bacon or sausage from the buffet.
After brunch guests relax at the refreshing pool or enjoy a nap after the excitement of the game drive, depending on their preference. We ensure that guests have enough time to relax and we strive to accommodating every need. Books of an African theme, cards, boardgames such as chess as well as massage treatments can be organised in the comfort of their own room
A tranquil cruise down the winding Bushman's river can be organized on request. Enjoy a sundowner with snacks where you may catch a glimpse of a timid bush buck in the riverine forest. The river cruise affords the best opportunity of viewing the rare African Finfoot as well as the less rare but more majestic Fish Eagle.
AFTERNOON/EVENING GAME DRIVES
Summer/Spring Months (October - March)
Afternoon Game Drives commence at 4:30pm
Autumn/Winter Months (April - September)
Afternoon Game Drives commence at 3:30pm
Light snacks in the form of delectable sweet and savoury pastries are provided half an hour before the game drive is to commence at the main lodge. Bottled water, beverages and light snacks such as biltong are provided en route and the vehicle will stop in order for guests to alight and enjoy a sundowner at sunset. This is the highlight of an evening game drive, as an African sunset is something one feels privileged to witness.
DINNER
Dinner may consist of either an informal bush braai/barbeque in the "boma" consisting of a selection of salads and/or hot vegetables, barbequed meat (chicken, beef, ostrich, venison or even fish) or a selection of dishes may be offered to suit your palate. Bush breakfasts, picnics or dinners are enjoyed to the sound of rhythmic African drums or guests may prefer the tranquility of enjoying an excellent meal under the stars in the "boma" or "lapa".
After enjoying dinner guests are invited to socialize until the small hours of the morning or to retire to the comfort and luxury of their suite. Whatever the preference, they will awaken to the chorus of an African dawn and ready for another day of adventure!
Activities
Game drives

The Amakhala Reserve is surrounded by areas of historical and cultural interest. We would be pleased to assist

We offer morning, afternoon and evening Game Drives under the guidance of qualified rangers.

It's our privilege to create moments like these, and to share them with you.
Additional Information
Alexandria is 36 kms away and as such is the closest town to Bukela Game lodge and convenient should guests need to purchase anything the lodge cannot provide during their stay. Guests will find a pharmacy, fuel station and small convenience store located here.

The route from Bukela Lodge to Port Alfred via Grahamstown is a 120 kilometre scenic meander which will take the visitor through the quaint settler village of Bathurst. The historic village houses the area's oldest pub as well as a variety of craft shops.

The Eastern Cape is also rich in Archaeology and Palaeontology. During the last century the first Stegosaur Skeleton was documented in South Africa, less than a kilometre from the Amakhala Game Reserve.