Warning: count(): Parameter must be an array or an object that implements Countable in /var/www/html/global_inc/aws/GuzzleHttp/Handler/CurlFactory.php on line 67

Hawksmoor House - Cape Town, South Africa
Find a hotel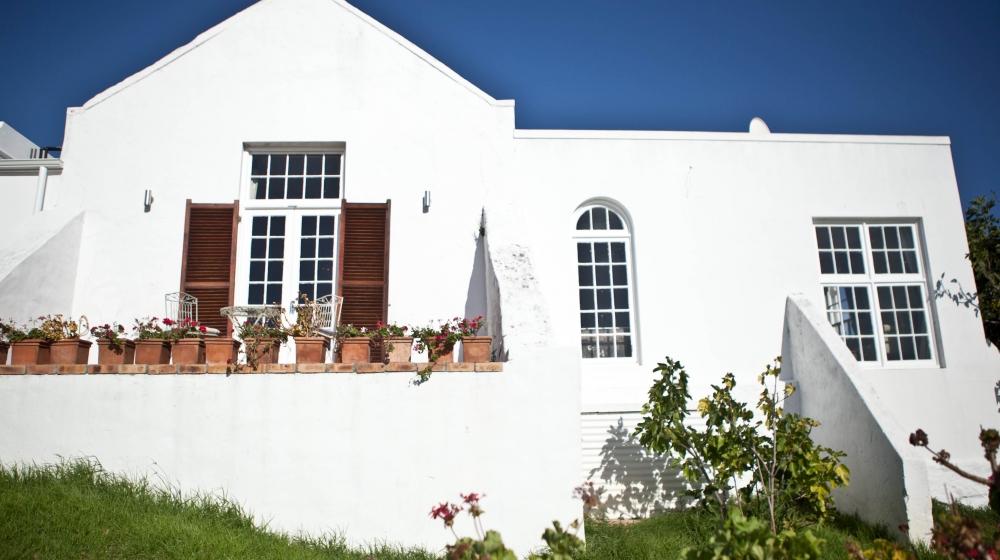 Overview
Boutique hotel Hawksmoor House is a Cape Dutch country retreat located on an authentic wine farm, Matjieskuil, near Stellenbosch in the Cape Winelands. If you love dirt roads, sunsets, wine by candlelight, an owl outside your window, Hawksmoor House and the Wine farm is the place for you!
This unique guesthouse gives you a delicious glimpse into South Africa's vintage winelands world and rewards you with lingering breakfasts on the terrace, vineyard walks, sun downers on the veranda and wonderful dinners in an 18th-century dining room. All this wonderful unpolished perfection is just 30 minutes from Cape Town. Hawksmoor House is perfectly placed for exploring the surrounding winelands, starting with nearby Stellenbosch.
Know Before You Go
Rooms:
Our eight stunning rooms are spacious (25+ m2), decorated individually, each designed around a colour or theme, and furnished throughout with exquisite antiques and contemporary touches.
The rooms feature:
- Queen-size bed
- Safe deposit box
- Elegant en-suite bathrooms with shower and/or bath & underfloor heating
- Fabulous, complimentary Charlotte Rhys toiletries
- Beautiful garden views
- WiFi / I-pod docking station (upon request)
- 3 rooms have fireplaces
Facilities:
Swimming pool: Vineyards: Gardens: Library: iPod docks: WiFi. Massages on request. In bedrooms: iPod dock and underfloor heating in the bathrooms.
Features:
The manor house contains a grand dining room; a drawing room with fireplace, an honesty bar; a small library with internet access and a farmhouse kitchen with AGA stove & direct access to our herb garden. The grounds are laid out to include a large lawn, reflecting pond, lavender beds; vegetable, rose and herb gardens, a gorgeous wine cellar with fireplace, a wine tasting room, and a swimming pool with a view of Table Mountain. A fence around the entire property provides privacy and security.
The house dogs Max, Cosmo, Alice and little Jack would love to accompany you on a walk through the vineyards to the nearby dam to check up on our colony of around 80 pelicans.
Dining:
English breakfast and afternoon tea is served on a daily basis.
Evening meals can be taken in the dramatic, chandelier-hung dining room at an antique 18-seater table, making dining a relaxed and friendly experience. A cheese and meat platter is available to order every day. A highlight is the original farmhouse kitchen with an AGA stove where guests can dine on excellent home-cooked meals and are very welcome to pick delicious treats from the wonderful kitchen garden and even cook the fare themselves.
There is an honesty bar in the library. Pick out one of the Hawksmoor estate's own wines, or a sparkling wine from the neighbouring Villiera vineyard and settle into a gorgeous armchair.
Guests can help themselves to the goodies in the fridge and drinks cabinet at any time of the day.
Hotel Rates
Summer Rate: 2010/11
November - April: R 1,250 - R 1,750

Winter Rate: 2010
May - October: R 750 - R 1,000

All room rates are inclusive of breakfast and afternoon tea and are subject to change without notice.

NB: Children by special arrangement only.
Activities
House dogs Max, Cosmo, Alice and little Jack would love to accompany you on a walk through the vineyards

The unheated outdoor pool is tucked away from the house and is fringed with canvas umbrellas

Wine cellar and wine tasting room

Lots to investigate in the stunning Garden Route & Winelands.
Additional Information
We would love to organise your special celebration, birthday party, family reunion, or simply a lavish manor house dinner.

To keep weddings at Hawksmoor House truly special, we only host one wedding per month and the entire guest house including 7 bedrooms (sleeping a maximum of 15 guests) needs to be hired for 2 nights (3 nights if a marquee needs to be set up) at R35,000 and R50,000 respectively.

We require that the exclusive wedding co-ordination team of Wedding Concepts be retained to arrange the celebrations.