Warning: count(): Parameter must be an array or an object that implements Countable in /var/www/html/global_inc/aws/GuzzleHttp/Handler/CurlFactory.php on line 67

Dar Darma - Marrakesh, Morocco
Find a hotel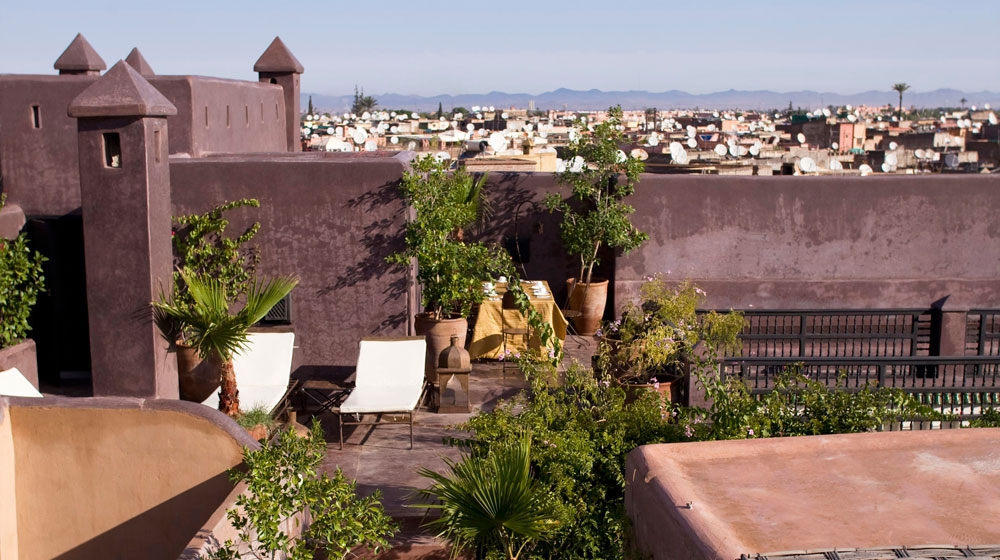 Overview
This fabulous boutique hotel is steeped in rich traditions, immersing guests in a romantic aura imbued with intimacy, Dar Darma stands regally amid the sights and sounds of the ancient Mofq quarter of Marrakesh. A romantic hotel with oodles of charm and style.
With huge, airy rooms, a sprinkling of silver and gold and antique furniture, Dar Darma is quirky hidden gem in the heart of the Medina. This is not a traditional hotel, rather a private residence that offers a personalized service and relaxed atmosphere. Out Oozing with personality, this is an ideal place for the most demanding travellers looking for an exclusive chilled-out retreat.
Special Offers
SAVE UP TO 28% OFF - 3 Great Offers
Know Before You Go
Rooms:
Bathed in rich shades that whisper of decadence, each room showcases an intoxicating fusion of contemporary luxury and old-world Moroccan charm. Amid the deeply-drenched interiors, commanding beds and sculpted furnishings sit alongside ornate antiques upon richly patterned, rug-scattered floors. Suites have showers and large baths.
Facilities:
Courtyard
Roof terrace with plunge pool
Hammam
Massages
Library
WiFi in rooms:TVs and DVD players
Features:
The Terraces offer endless and panoramic views over the rooftops of the Medina, from the Koutubia, to the Palace Dar Bacha till the Atlas mountains. Furnished with sofas shaded areas and sunbeds, the terraces feauture a swimming pool, a refreshing bath and a shower.
The terraces of Dar Darma are ideal for pleasant moments of relaxation, breakfasts, lunches and dinners.
The Hammam of Dar Darma, the traditional Moroccan bath is composed by two rooms of different temperatures, dressing room adjacent.
Beauty: massage, the 'scrub' treatment and cleaning of the face are available on request in the hammam or in the privacy of the suite.
Dining:
The jewel of Dar Darma is its culinary art, proposed by the cook of the house.
On request it is possible to taste lunches and dinners based dishes like the traditional Moroccan soup Hariri, different tajine of chicken, meat or vegetables, cous cous, lemon chicken, cakes and other delicacies.
The chef also offers the kitchen and his secrets to show guests the preparation of the dishes.
You'll have to give a few hours' notice if you want dinner
Hotel bar Drinks can be brought to you anywhere in the riad.
Activities
Roof terrace

Plunge pool

Massage

Hamman

Cool courtyards for chilled relaxation

Room service 8am–9pm, or later with prior arrangement.
Additional Information
At the foot of the Atlas mountains, the Royal Golf of Marrakech is one of the most prestigious club in Morocco.

HORSE RIDING Riding a half-day or a full day for riders of different levels. Rate per person: on request

The unforgettable experience of flying on board one of the largest balloon in the world. Over northern Palmeraie, the Oued Tensift Tbilets and mountains, flying over villages and palm trees. Rate per person: on request

Guided by a chef of Dar Darma, participants take part in the preparation of dishes such as tajine of chicken with lemon, the lamb tajine with dates and almonds etc

Our local tourist guide is at your complete disposal to let you visit the most interesting places and to suggest you the most charming ones. English-speaking guide

By riding a Quad bike you can go deep into a suggestive scenario and admire the snow-covered peaks of the Atlas Mountains, the red ground of the desert, and the sides of the Lalla Takerkoust, just 35 km far from the city. Rate per person: on request

Caftans, rich fabrics, potteries, 'babouches', lamps, silver staff, and spices in the most trendy shops of the city.

The library at Dar Darma was conceived as a pleasure place to be shared by all guests; we invite you to borrow a book to be read during your relaxing time or to give us one of those you read and loved, and, why not, to write your remarks and a dedication in it.

2 DAYS IN THE DESERT A journey in the journey through the Atlas Mountains to Ouarzazate and its Kasbahs. And then a camel-riding tour to a tent camp to sleep under the stars. Rate per person: on request