Warning: count(): Parameter must be an array or an object that implements Countable in /var/www/html/global_inc/aws/GuzzleHttp/Handler/CurlFactory.php on line 67

La Belle Juliette - Paris, France
Find a hotel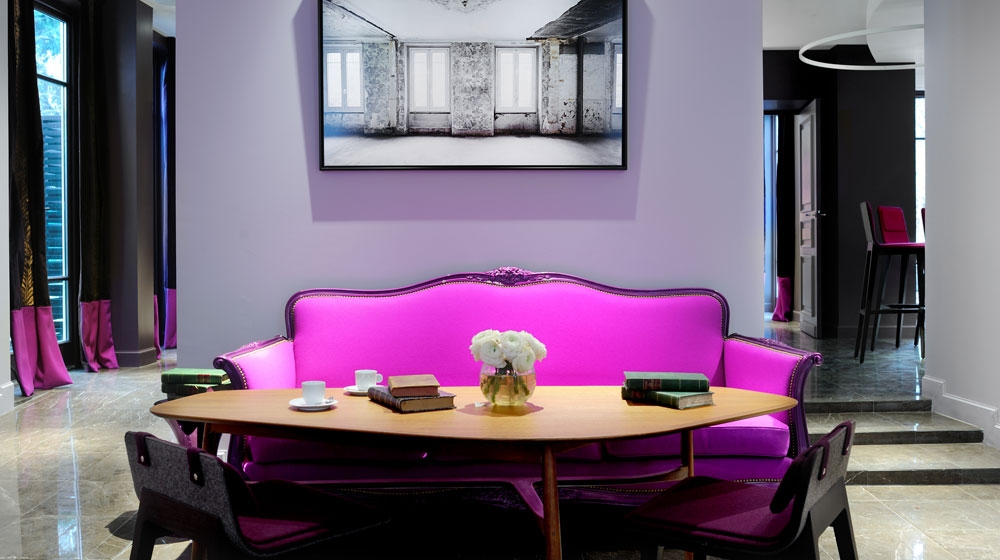 Rates from £193 per night ·
City Chic
· 34 rooms
Overview
The boutique hotel, La Belle Juliette is a chic treat for all your senses thanks to its candy-coloured interiors and tea time pastiseries to die for! A stylish nod to the French celebrity, Juliette Recamier, this Parisian boutique hotel will delight. Cool city living!
With confectionary-coloured interiors this divine hotel with it's rose-pink furniture & parma violet paints will be a delight to the senses. Juliette is situated in one of the most beautiful areas of the Left Bank in the centre of Paris, in Saint Germain des Près.
Know Before You Go
Rooms:
All rooms are equipped with their own safe and an iMac computer, allowing you to surf the Internet, listen to music or choose a film to watch. The hotel offers free broadband wireless access to the web and air conditioned throughout. Every possible effort has been made for your comfort.
Each rooms illustrates a fragment in the life of Juliette. The first floor is dedicated to Juliette and Mme de Stael, her dearest friend. Voyage to Italy by visiting the second floor. A mix of passion and serenity, the third floor will introduce you to Châteaubriand, her great love. On the top floor you will be privy to the secrets of the 'Causeries' with a taste of the salons of the times.
Facilities:
Spa
Petite courtyard attached to the restaurant
Free WiFi throughout.
In rooms: flatscreen TV, DVD/CD player, iMac. Deluxe rooms and above have Nespresso machines.
Features:
Different floors represent different epochs of Juliette's life, in an agreeable mix of historicism and the contemporary. There's a small Japanese-style garden and a gorgeous basement spa, complete with a small but perfectly formed swimming pool, ideal for one.
Dining:
To evoke Juliette Récamierís frequent stays in Italyís most beautiful cities - Rome, Florence, Naples - our chef, guided by star chef Flora Mikula, has been inspired to expand our restaurant menu by creating some extremely tasty dishes with Italian influences. Our produce comes from the highest-quality suppliers, bringing you the authentic taste of Italy.
Activities
Little basement spa and mini swimming pool.

Wonderful tea time treats

Sample cocktails at the hotel bar
Additional Information
Metro station "Vaneau" 200 metres

The hotel is also two minutes from boulevard Raspail and the chic Bon Marché department store.

Delicious patisseries nearby

Rue du Cherche-Midi is dotted with chic boutiques.

Continental breakfast is an additional Ä20 each