Warning: count(): Parameter must be an array or an object that implements Countable in /var/www/html/global_inc/aws/GuzzleHttp/Handler/CurlFactory.php on line 67

Villa Mathis - Bali, Indonesia
Find a hotel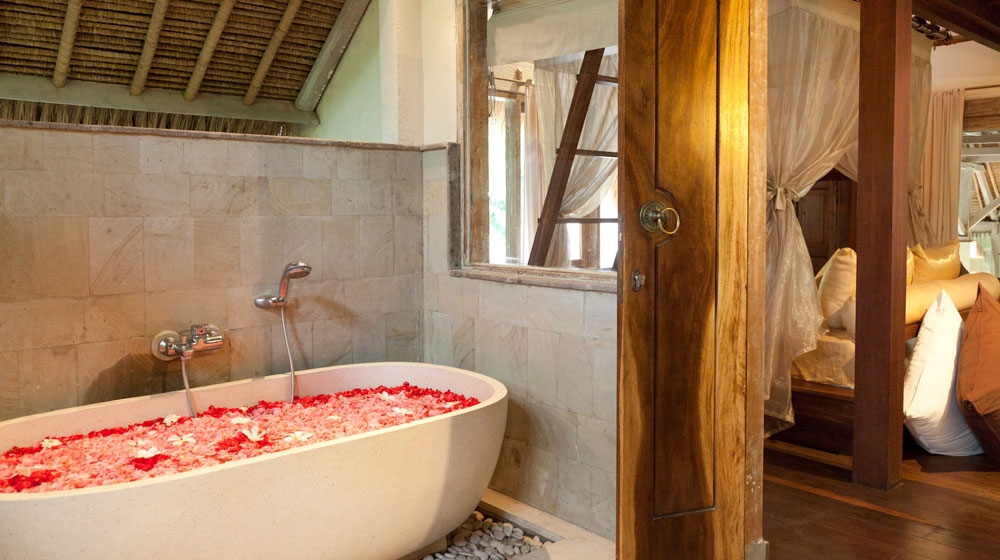 Overview
Villa Mathis is a boutique hotel in Bali located in Umalas, 10km from the sun-kissed shores of Seminyak. Surrounded by rice plantations and lush gardens, this charming hotel is within an hourís drive of Ubud, the Bukit Peninsula, and many ancient Hindu temples. Perfect spot for a touch of romance!
By interpreting and re-adapting traditional architectural norms, and by adding a subtle and refined decoration using materials of local origin such as the Alang-Alang roofs or Terrasso floors, the designers of the Villa Mathis have succeeded in creating a most prestigious establishment which could have come straight out of a home décor magazine.
Discover a world of exotic flavours with a visit to the local market as part of the hotelís cookery course, before mastering the basics of Indonesian cuisine led by the hotel chef. After exploring this beautiful volcanic island, guests are invited to cool off by one of the hotel swimming pools or unwind with a Balinese massage.
Thanks to its strategic location, you will have plenty of time to discover the Island at your leisure during the day while returning at dusk to the charm of the Villa Mathis for your dinner and a restful night.
Know Before You Go
Rooms:
The Villa Mathis has 18 rooms divided between 4 villas in a huge tropical garden. All are different but offer the same refined and warm atmosphere. Traditional Balinese materials (teak wood, Alang-Alang roofs, Batik drapes and cushions...) and modern furnishings embellish the villas, which seem truly to come out of the pages of a home décor magazine.
A private pool per villa, attractive lobbies, small water features and large green areas surround the rooms. The traditional crafted furnishings, purchased on the many islands of the archipelago, are complemented by paintings by local artists adorning the walls. 


The rooms have been so designed as to respect the privacy of all, allowing you to enjoy a lovely view without being overlooked by the other rooms in the Villa. Some have a large mezzanine floor to accommodate a child ; other upstairs rooms offer superb views over the surrounding tropical vegetation. 


Each bearing the name of an Indonesian island, most of the rooms open onto a small garden sporting a bathroom with shower or bath ; all have air-conditioning and a safe and the minimum size is 50m². (Umbrellas, bathrobes, hair-dryer and bottled water are at your disposal). 
During the day, the unoccupied rooms are left open so you can discover the visual pleasure of these little gems with their changing décor.
Facilities:
Spa, library, CD/DVD collection, gallery/boutique, gardens, TVs and free WiFi in common areas. In rooms: local toiletries, free bottled water, umbrellas, kimonos.
Features:
After exploring this beautiful volcanic island, guests are invited to cool off by one of the hotel swimming pools or unwind with a Balinese massage. As evening draws in, dine by candlelight in the hotel restaurant, or select a more private setting around the hotel grounds for a romantic meal beneath the stars.
Dining:
The EPHEMERAL RESTAURANT.
Lunch in the shade of a tree in the garden, in the cool of your room lying lazily on your bed or on a sofa outside by the pool... In the evening, by candlelight in a secluded romantic recess, on big white cushions with your feet in the pool or in an unoccupied villa ...
Between the 4 large tropical gardens, the landscaped swimming pools and small hide-outs scattered here and there, ideas for meal venues abound ! Your hosts will also surprise you by setting up a table in an unexpected secret location known only to them.
Our varied menus offer both tasty typical dishes and classical European dishes, with a subtle variation in flavours, ranging from quick snacks to nibble by the pool to complete gastronomical meals - something to please everyone whatever their activities, appetite or tastes. Our food is very moderately priced, in line with prices on the island, which means that guests can take all their meals at the Villa at a very reasonable cost.
Activities
Tropical gardens

Spa

Cool pools

Cooking classes

From your hotel, we offer dozens of excursions with an English-speaking guide to explore the natural treasures of Bali

A special programme dedicated to lovers, that of a romantic evening at the Villa Mathis. Massage, flower bath and more
Additional Information
Breakfast included

Included in the Total Price: Service Charge 10%. Not included in the Total Price: TAX 11%.

Check-in from: 14h, Check-out until: 12h

Reception from 08:00 to 23:00