Warning: count(): Parameter must be an array or an object that implements Countable in /var/www/html/global_inc/aws/GuzzleHttp/Handler/CurlFactory.php on line 67

Mnemba Island Lodge - Zanzibar, Tanzania
Find a hotel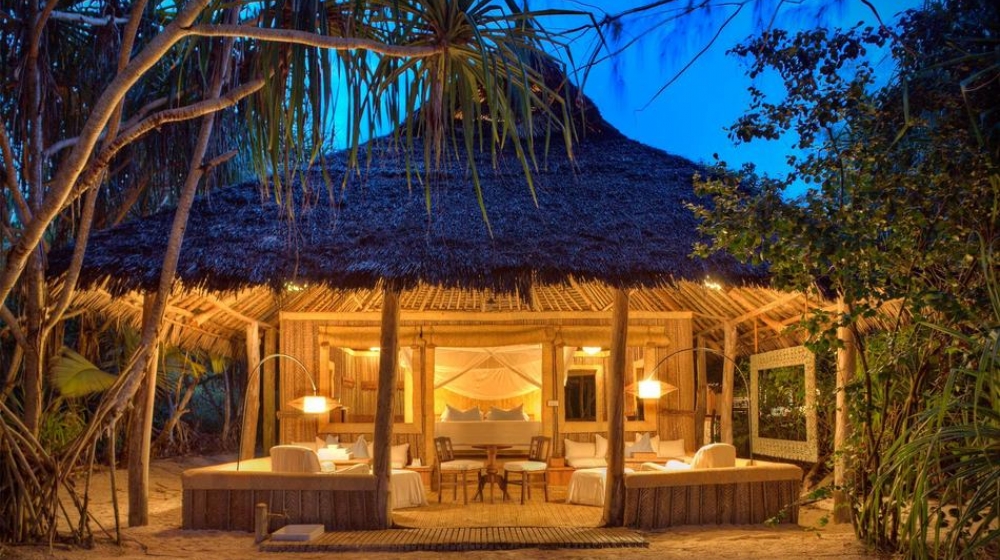 Overview
This exquisite castaway island lies just 3 miles off the northeastern tip of Zanzibar Island, Tanzania. With its white coral sand beaches and spectacular coral reefs, this idyllic gem is renowned as one of the world's most romantic retreats.
Mnemba Island Lodge offers guests the perfect destination to get away from it all. With just 10 palm-frond guest bandas on the entire island, the only intrusion may be a silent visit from a curious Suni antelope or two at sundown and where the dawn is greeted by dove song and the smell of coconut bread baking in the woodstove. The balmy blue waters of this barefoot paradise invite you to truly live out your castaway dreams.
Know Before You Go
Rooms:
Mnemba Island Lodge features just 10 secluded thatched Zanzibari bandas. Sea breezes waft through high palm-frond roofs and large windows in your beachside banda. Overhead fans in a spacious bedroom filled with soft, natural fabrics and traditional woodcarvings cool down the warm tropical nights. Stretch out on the built-in barazas on your veranda or settle into a plush armchair to enjoy the ocean view.
Traditional Zanzibari loungers in your private beach sala invite you to spend time in the sun. A shady corridor of woven palm leaves leads to a large shuttered ensuite bathroom which features a huge glass beaded shower, double hand basins and separate WC.
Facilities:
Should you tire of your solitude, open thatched dining and sitting areas provide the perfect place to watch the sun set. Deep pillows and low wooden tables open up onto majestic views of the white beach with the hazy outline of Zanzibar in the distance. There is a small library with a selection of books, games and magazines. Guest areas are all open-sided, cooled by sea breazes and are informal and relaxed.
Features:
The pristine white beaches of Mnemba, surrounded by deep blue ocean, combine to make this intimate island your own private tropical paradise. While the dazzling sands and brilliant sunshine invite you to spend idle hours on shore, magnificent coral reefs create an underwater wonderland that lures you to explore the warm, crystal clear waters of the Indian Ocean. Scores of snorkelling and diving sites form a gateway to a world of incredible sea creatures.
Dining:
Thatched dining and sitting/bar areas have beautiful open views of the beach and spectacular vistas of Zanzibar beyond. Renowned for its excellent cuisine, baskets of fresh fruit, fish, lobsters, crabs and prawns are sailed into Mnemba daily on traditional ngalawa outriggers. Enjoy lunch served on large, wooden carved platters, heaped with delicious mezze. Later, when the magnificent African sky lights up with stars, romantic candle-lit dinners are served on the beach, with the bright moonlight reflecting off the waves as they gently lap on the beach.
Activities
Follow the beach all the way round the island (20 mins walk)

Our dive instructors are on hand to guide (qualified) guests to the best sites and two dives per day are included

A wide choice of diving courses are also offered at an extra charge

Snorkelling around the island offers our guests a truly memorable experience, with boats and guides available

Both snorkelling and scuba diving equipment are provided at no extra charge

Fly-fishing enthusiasts can fish directly off the island's beaches, deep sea fishing can be arranged at an extra charge

For those wanting a little more exercise, kayaking and windsurfing off Mnemba's white coral beaches are both available

Spice tours on Zanzibar can be arranged from the Island, and massage treatments are available at an additional charge

Special activities for children, such as discovery walks, kite-flying or 'bubblemaker dives', can be arranged on request

Enjoy a wonderful sunset dhow cruise or Mnemba is the perfect place for doing absolutely nothing
Additional Information
Mnemba Island Lodge is closed annually from 1 April to 31 May

Single supplement of 50% is applicable on first single room of a booking

Children under 12 are welcome at the lodge (a maximum of only 2 children on the island at any one time). An extra bed can be arranged for a child 16 years and younger sharing its parents' banda. No more than 1 triple at any one time

The best months to visit Mnemba are from June to March

Check in: 12h00. Check out: 11hr00

As there are no jetties and departures and landings are directly to and from the beach and involve a little wading