Warning: count(): Parameter must be an array or an object that implements Countable in /var/www/html/global_inc/aws/GuzzleHttp/Handler/CurlFactory.php on line 67

Maia Luxury Resort - Mahe, Seychelles
Find a hotel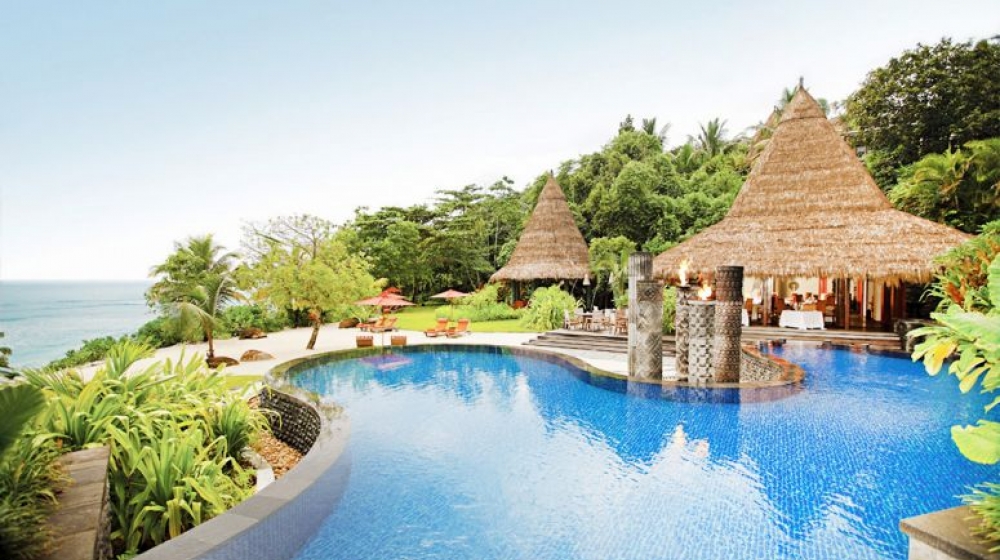 Overview
When it is time to pause your frenetic pace and rediscover senses dulled by the incessant demands of life, there is a place called Maia Luxury Resort & Spa - offering something more than just breathtaking views. This all inclusive resort is the perfect choice for honeymooners and romantics.
On the island of Mahe's west coast in Seychelles, you will find Maia Luxury Resort & Spa, with just 30 villas secluded amid 12-acres of lush tropical landscape.
Maia a private peninsula where the warm aquamarine waves of the Indian Ocean wash upon the unspoiled Anse Louis beach and guests can leave the world behind. A policy of absolute discretion ensures complete privacy. An exclusive, spectacular setting where you will rediscover your senses.
Special Offers
SAVE UP TO 20% OFF
Know Before You Go
Rooms:
In this place of sanctuary, guests also enjoy unprecedented levels of exceptional service, with a dedicated personal butler appointed to each villa to instinctively anticipate your needs and wishes.
All 30 luxury villas are air-conditioned with an inter-leading bathroom with walk-in shower, dual vanity, and a glorious outdoor double sunken bath tub. The spacious bedroom pavilions are equipped with a, flat screen TV, DVD player, iPod station, ceiling fans and a La Prairie fridge for cosmetics. A secluded outdoor Gazebo is fully equipped with en-suite dining facilities and a wonderfully oversized day bed.
Facilities:
The residents can choose from a variety of water-based activities such as snorkelling, diving, kayaking and fishing. Some of these activities can be enjoyed in the waters surrounding Maia, while others mean taking a short journey out of the boundaries of the resort.
Guests can be instructed in the practices of Hatha yoga, Qigong and indulge with massages and other restorative La Prairie treatments in the Balinese style Spa.
Features:
Maia is child-friendly and family-friendly. We keep children entertained with a diverse range of 'Very Important Kids' (VIK) activities and menus that suit their tastes.
For younger children there's sand castle building, accompanied swimming lessons with toys and snorkelling in the pool, as well as painting and colouring sessions. For teenagers, activities can include treasure hunts, group canoe trips, volley-ball and movies.
Upon request, an activity programme can be personalised for your children by arrangement with Maia's Recreational Team – and at any time during your stay, your personal butler will care for and entertain your children too.
Let us also turn a simple kayaking and snorkeling trip into a decadent experience by washing the salty waters of the Indian Oceans from your mouth with the bubbles of a perfectly chilled Champagne, while you float upon undulating waves.
Dining:
At Maia, gastronomical pleasure is a promise – and because we know that an appetite or even a fetish for food doesn't keep restaurant hours, our kitchens cater for individual tastes, satiating your desires with the flexibility to indulge your palate beyond the confines of a regular menu and set dining hours. Our menu isn't a variety of meals. It's a variety of menus.
The Tec-Tec Restaurant stimulates your appetite for life with the culinary skills of 5 Chefs from 5 different nationalities offering Creole, Asian, Middle Eastern, Australian, and French cuisine. While most guests are content to relax in the privacy of their villas, where their private butler can prepare light dishes, meals and refreshments throughout the day – this includes off menu items such as barbecues and freshly caught fish.
Activities
Helicopter Tours

Diving

Deep Sea Fishing

Yacht Cruising

Island Discovering Tours

Hiking Trails

Cooking Classes

Cruises

Barbecues

Island Tours
Additional Information
All inclusive rate

Maia is child-friendly and family-friendly. We keep children entertained with a diverse range of 'Very Important Kids' (VIK) activities and menus that suit their tastes.

As part of the VIK programme, your personal butler will provide exemplary care for your children whenever the need may arise.

Baby cots are provided at no extra charges.

Maia Luxury Resort & Spa offers disabled guest facilities

The resort is 25 minutes chauffeur driven transfer to and from Seychelles International Airport and 30 minutes chauffeur driven transfer to Victoria, Capital of Seychelles on the main Island of Mahe. Fast track service organised at the airport to facilitate your arrival and departure.

There are no less than one hundred and fifty-species of plants in the Maia garden. Discover it through a memorable tour organised by our Chief Gardener.