Warning: count(): Parameter must be an array or an object that implements Countable in /var/www/html/global_inc/aws/GuzzleHttp/Handler/CurlFactory.php on line 67

Anantara Kihavah Villas - Baa Atoll, Maldives
Find a hotel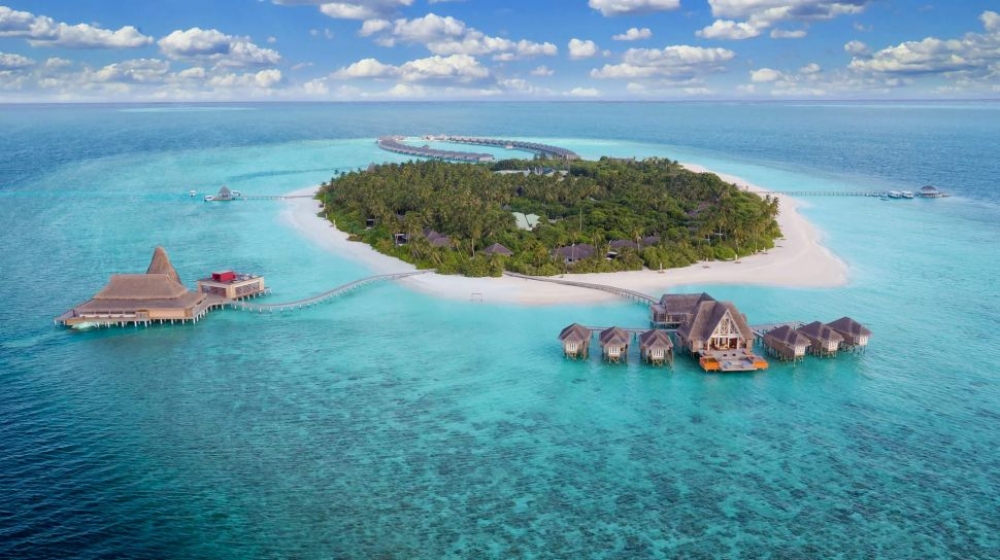 Overview
Anantara Kihavah luxury hotel ticks all the right boxesÖ with its amazing underwater restaurant and overwater spa, not to mention the 34 villas right on the powder soft beach and 40 on stilts over the dreamy turquoise lagoon. This boutique hotel is a love bird haven just waiting to be discovered!
Imagine the morning sun dappling the crystal-clear waters of a secluded lagoon & afternoons spent sunbathing by your private infinity pool, just steps from the ocean. Overwater rooms have glass-bottomed bath-tubs while their beach counterparts offer outdoor bathrooms with wine coolers next to the tub-for-two for those bubbly on ice romantic soaks! Discover the meaning of true paradise and luxurious seclusion at this unforgettable Maldives resort.
Special Offers
SAVE UP TO 25% OFF
Know Before You Go
Rooms:
On your very own stretch of stunning white beach or set out over the water, each of our villas comes with a private pool.
Beach Villa:
Awaken to breakfast in bed with a view of the sun rising over endless sparkling waters. Indulge in a sunken bath for two over a shallow pond at the end of a bathroom open to the stars. Soak in the sun on a lounger that hovers over a private infinity pool. From Bose sound system and wine chiller, to iPod docking and espresso machine, the Beach Pool Villa offers every luxury of design and comfort.
Overwater Villas:
Watch the sun dip below the horizon from your private pool villa, set out over the sparkling turquoise waters of the Indian Ocean. Bright, open rooms filled with colourful island blooms and the sweet fragrance of the tropics. Built over the water out of groove-lined timber, with high ceilings and hardwood floors, they will make you feel at one with the ocean. With wine chillers, private pools and sun decks with views of the unending ocean, these oversized villas create a peerless overwater luxury experience.
Feel at one with the ocean in your glass-bottomed bath tub.
Facilities:
Restaurant(s)
Spa
Swimming Pool
Butler Service
High Speed Internet
iPod dock in rooms
Massage
Features:
The setting is tranquil, but recreation and fun are always close by. Every day, Anantara features a range of organised and do-it-yourself activities in the gorgeous surrounds of our resort.
Stroll across the jetty to 6 over-water treatment suites at Anantara Spa and reward yourself with the lavish attention of professional therapists.
Bask on the edge of infinity beside an outdoor pool that seems to meld into the ocean horizon. More than just a place to swim a few laps, the Kihavah pool is a true refuge of relaxation. The Sunshine Butlers are on hand to cater to your every wish, from fresh fruit juices to cold towels, five-minute back massages and sunglasses cleaning.
Find your personal soundtrack by borrowing one of the pool's iPods: from jazz to hip hop, each colour is loaded with a different style of music.
Dining:
Our signature Sea-Fire-Sky dining complex is a one-of-a-kind over and under water dining concept, exclusive to Anantara Kihavah Villas. Imagine roast lamb with rosemary grilled on a Himalayan salt block, bringing an inventive touch and rich taste sensations to your palate. Gaze at angelfish playing along the colourful ocean floor, just metres from your table as you indulge in a decadent molten chocolate cake.
Sea:
Descend to the ocean's dazzling depths as you wine and dine at our unique underwater wine cellar and restaurant. Dining in this unforgettable aquatic setting promises a definite island highlight
Fire:
Prepare yourself for sizzling theatrics in the teppanyaki lounge, as our talented chefs dazzle you with their acrobatic cooking skills.
Sky:
Climb to the centre of conviviality and discover a rooftop bar with breathtaking island views over the Baa Atoll.
Plates:
Start every perfect day with a lavish breakfast selection at our all day dining restaurant. Return in the evening for a romantic candlelit dinner.
Activities
Every day, Anantara features a range of organised and do-it-yourself activities in the gorgeous surrounds of our resort.

String up the nets and break out the suntan lotion for a full range of beach sports and activities.

Fine tune your forehand volley on the resort's tennis courts.

Draw inspiration from the beauty of your island surroundings with guided sessions in tranquil yoga.

Grab your most trusted paddling partner and take out one of our canoes for an afternoon spin on the lagoon

Whatever your level of experience, Anantara's Dive Centre will make you feel at home under the waves.
Additional Information
Whether you're eager to learn the secrets of the traditional Maldivian huni havaadhu curry or to grill the fresh tuna you caught this afternoon, the professional chefs at Plates will be pleased to take you under their wings and reveal a few kitchen tips and secrets.

Open for children from the ages of 3 to 12, the Kihavah Kids Club has a full range of fun and enriching activities to keep young guests occupied.

Bask on the edge of infinity beside an outdoor pool that seems to meld into the ocean horizon. More than just a place to swim a few laps, the Kihavah pool is a true refuge of relaxation.

Cast it out and reel it on in - you've probably been fishing before, but never in a setting like this. Take a half-day excursion on our speedboat to reap the bounty of the plentiful Indian Ocean

Skip along the glassy surface of the ocean, the breeze whipping through your hair, your heart pounding. Windsurfing is the closest you can get to flying, with you feet still planted firmly on the ground - or rather, on the water!

Not included in the Total Price: VAT 13.2%, Service Charge 10%, Local/Tourist/City Tax £ 3.86 per person per night