Warning: count(): Parameter must be an array or an object that implements Countable in /var/www/html/global_inc/aws/GuzzleHttp/Handler/CurlFactory.php on line 67

Anantara Dhigu Resort & Spa - South Male Atoll, Maldives
Find a hotel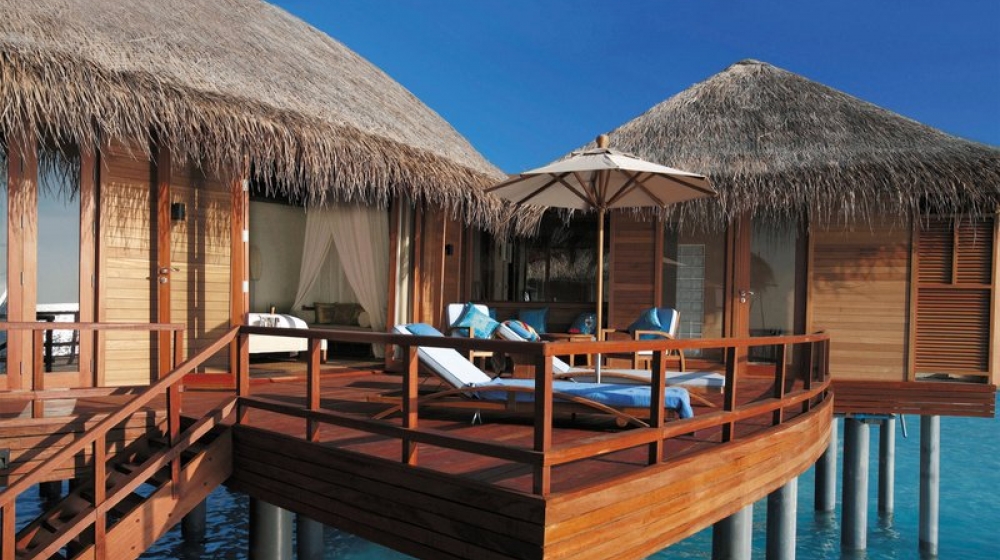 Overview
Anantara Dhigu luxury boutique Resort invites you to discover luxury amid a secluded paradise island. Take a morning plunge in the private pool of your over water villa or simply relax under a palm tree and dream! This is a real honeymoon haven or romantic setting for a proposal! A true hip hideaway
Here, stylish villas, over-water suites and luxurious beach bungalows fringe tranquil lagoons. Celebrate the Maldives with Anantara, discovering the ultimate tropical island getaway with brilliant coral reefs and water sport adventures. Experience a healing massage at Anantara Spa, as you peer through the glass floors revealing the puffer fish, sting rays and baby reef sharks swimming underneath. This is the perfect choice for barefoot castaways
Special Offers
SAVE UP TO 25% OFF
Know Before You Go
Rooms:
Wake up to the gentle rays of sun shining from above, while crystal Indian Ocean waters ripple below your private suite at Anantara Dhigu Maldives. Recline on the private sun deck or take a long soak in our terrazzo tub for two. Anantara's over-water suites all benefit from glorious ocean views for the perfect Maldives luxury hotel experience.
Envelop yourself amid the Maldives sky's azure hues and gentle breezes that roll in off the sea to the privacy of your luxury villa at Anantara Dhigu Maldives. Choose between villas perfectly positioned to catch the sunrise and sunset, or those that have their own private pool. Each of these five-star resort villas comes with its own stretch of pristine beach with direct access to our tranquil lagoon.
Facilities:
Kids Club
Daily Activities
LibraryLounge/Bar
Private Dining
Restaurant(s)
Spa Services
Swimming Pool
Tennis Court
Fresh Fruit in Room
High Speed Internet In-room
iPod dock in rooms
Features:
With the sound of calm waves running beneath you and panoramic views of pristine ocean it's time to unwind and enliven your spirit with the luxury spa at Anantara Dhigu.
Escape every-day cares with indigenously inspired luxury over-water treatments for your body and soul. Our Maldives resort spa lets you choose between nine sumptuous spa suites, each perched over the lagoon on Dhigufinolhu. The spa menu features holistic therapies designed to enrich and detoxify, all while you relax and take in your perfect island holida
When not relaxing on the beach, embarking on an Ayurvedic spa retreat or lounging in our beachfront infinity pool, spend time on the water with sailing excursions, waterskiing on the placid lagoon, seaplane flights, deep-sea fishing or sunset dhoni cruises alongside dolphins. Anantara also features its own onsite PADI Dive Centre, at one of the world´s premier diving destinations. Across the waters, just moments away, lies Anantara Dhigu´s sister resort, the romantically tranquil Anantara Veli. As guests of Anantara Dhigu, enjoy full access to the luxurious facilities and amenities of both islands.
Dining:
Anantara Dhigu Resort & Spa is a destination that appeases more than your aesthetic senses. Indulge in a guilt inducing gastronomic affair in the luxury Maldives restaurants that are scattered throughout our tranquil island retreat and its sister resort Anantara Veli.
On the white sandy beach of Dhigu Island, Fushi Café restaurant at Anantara Dhigu Maldives serves a lavish full breakfast buffet each morning.
Sample the freshest seafood scooped straight from the ocean or feast on imported steaks at the lively Fuddan Fusion Grill.
Anantara Dhigu Maldives brings Italy to the tropics at Terrazzo, an intimate ocean-view restaurant serving rustic Italian favourites.
Providing poolside refreshments and light snacks, Aqua is the perfect gathering point for another day in paradise. Accessible both in and out of the water, you can swim up to the bar and create your own cocktail from our range of ingredients.
Restaurants at Anantara Dhigu Maldives extend beyond the dining room. Let us plan romantic fine dining for two in countless, secluded getaways either at Anantara Dhigu or our sister resort Anantara Veli.
Activities
Open for children from the ages of three to 11, the Dhoni Kidz Club keeps our youngest guests entertained

Slide into the tranquil waters of our stunning freshwater infinity-edge pool situated right on the edge of the beach.

Anantara Dhigu Maldives' floodlit tennis courts mean that you can continue with a doubles match even after the sun sets.

Feeling waterlogged? Landlubbers can always take part in a pick-up match of volleyball or badminton on the beach

Clear your mind and achieve a sense of heightened well-being with gentle stretching and meditation to start off your day

Spend an afternoon living out your desert island daydreams with our island picnic excursion.

Anantara Dhigu Maldives offers surfing lessons and excursions for a range of abilities under our 'ticket to ride' system
Additional Information
Not included in the Total Price: VAT 13.2%, Service Charge 10%, Local/Tourist/City Tax £ 3.86 per person per night

Explore the turquoise tropical lagoon and reef around which Anantara Dhigu Maldives is situated. Unencumbered by heavy scuba equipment, snorkelling offers you a safe and easy way to get acquainted with the world below,

While staying at Anantara Dhigu Maldives, you will be treated to an array of inspired culinary creations. Why not learn the tricks of the trade with a cooking class from our resident master chefs

You may be thousands of miles away from it all, but our Maldives boutique brings the world to you, with all of life's small necessities as well as exotic goods and handicrafts from across Asia and the Indian Subcontinent.

Discover the range of jewels that lie await surrounding Dhigu Island. This Maldives excursion lets you see the many different forms paradise can take.

Try your skills at hand-line fishing and experience the glittering waters from a local's point of view aboard a traditional sailing dhoni.