Warning: count(): Parameter must be an array or an object that implements Countable in /var/www/html/global_inc/aws/GuzzleHttp/Handler/CurlFactory.php on line 67

Baros - North Male Atoll, Maldives
Find a hotel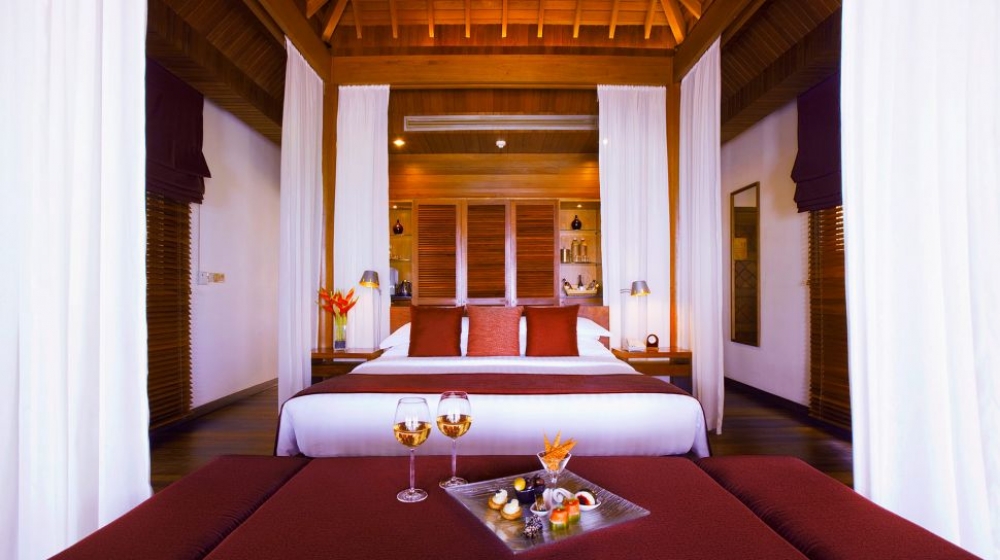 Overview
Come to a lush, tropical island set in the shimmering waters of a shallow lagoon, fringed by a reef vibrant with marine life. Revel in romantic privacy on the perfect vacation.The essence of the Maldives, defined at the dreamy and oh so fabulous Baros.
Because of the inherent hospitality of Maldivians, from its opening the resort gained a reputation for its friendly informality and caring, personalised service. Over four decades this has been enhanced with attention to detail, leading to Baros Maldives becoming the hallmark of top quality Maldivian holiday hospitality, acclaimed as the Best Maldives Resort for a Honeymoon and one of the most romantic resorts in Maldives.
From this bijou islandís reef-ringed sandy shores, palm-thatched roofs of secluded Villas peep from lush foliage. A wooden jetty leads to a picturesque palm grove and the grand gazebo housing the Welcome Pavilion.
Stay in elegance in Villas created from timber and sandstone, poised and peaceful over a translucent lagoon, or nestled discreetly among exotic blooms by the beach. Revel in romantic privacy on the perfect vacation.
This enchanting paradise is surrounded by the bluest lagoon and both the place and the service will exceed all expectations.
Know Before You Go
Rooms:
Guests at Baros have a choice of the finest things in life in the lavish comfort. There are 45 Beachside and 30 Water Villas on Baros Maldives. All are beautifully designed, built by craftsmen using sandstone and timber to blend with the natural environment.
All have contemporary furnishings, large windows to let in natural light, and are timeless in ambience. As well as having a private veranda or sun deck, sun loungers and a teak dining table for two, each Villa has a spacious, teak-floored bedroom featuring a king-size bed with soft cotton sheets and pillows, as well as a vanity desk and a large sofa or day bed.
All have direct access to the beautiful lagoon by the beach from the veranda or by wooden steps from the sun deck. Many have private pools.
Facilities:
In rooms: flatscreen TV, CD/DVD player, preloaded iPod, minibar, LíOccitane en Provence and Italian Acca Kappa toiletries.
Spa, library with books, board games, CDs and DVDs, free WiFi throughout, boutique, palm garden, pool table and table tennis, gym, water sports, dive and snorkel centres, private yacht and traditional wooden sailing dhoni.
Features:
Set in the heart of the resort, hidden within lush foliage, the Spa at Baros Maldives specialises in personalised treatment for guestsí needs with massages to soothe the mind and nourish the body, as well as therapies from all over Asia and a variety of cosmetic products.
Enhanced by its setting of a tropical garden, with flowing water creating a relaxing, serene atmosphere the Spa inspires contentment. Understanding, experienced therapists are on hand to provide treatments for the body and the soul; for the mind and the spirit.
Exploring the underwater life can be experienced throughout the islands, but Baros Maldives is unique as an underwater destination for several reasons: it has two centres devoted to diving and exploring the sea: The Dive Centre and the separate Marine Centre.
Dining:
In the splendour of three restaurants and two bars, in-villa, or anywhere on the island or even on a sandbank, the Piano Deck over the lagoon, or during a dhoni cruise, the dedicated Food & Beverage team of the kitchens, restaurants and bars of Baros Maldives are on hand to spoil guests with splendid service and fine food and wines.
The Lighthouse Restaurant is the hallmark of Baros Maldives, an over-water pavilion with a white sail pinnacle roof that serves as an iconic beacon visible long before the island comes into view. It has been acclaimed as one of the best restaurants in the whole of the Maldives.
For guests it is a wonderful experience to sit on The Lighthouse Deck above the Indian Ocean while rays and fishes swim below, enjoying the memorable moments of a gourmet dinner. At The Lighthouse, every meal is one to remember.
Cayenne Grill
Alfresco dining in thatched gazebos above the lagoon. A favourite retreat for a leisurely meal infused with the flavours of the tropics.
Lime Restaurant
Thatched, arched and open-sided pavilions by the water for the heart and soul of good dining.
Villa Dining
On demand 24-hours a day - breakfast, snacks, meals and drinks are served with discretion in the privacy of guestsíVillas.
The Sails Bar is situated in the heart of the island, in The Palm Garden, shaded by venerable palm trees creating a unique tropical atmosphere. There are daybeds and hammocks for relaxing while enjoying the lagoon view and partaking of high tea or sipping signature cocktails, freshly-squeezed juices or premium beverages as time drifts by.
In the evening, the romantically-lit open-sided cocktail bar has a wide choice of aperitifs, spirits, wine, liqueurs and digestives. Twice a week local bands play music for easy listening.
Island Dining
Dine anywhere on the island, on request. Whether itís a barbecue for two on the beach, a Thai feast on the boardwalk, a picnic on a sandbank or a candle-lit banquet in a palm grove, the dedicated Baros team takes care of it all.
Hotel Rates
The guide prices shown provide a broad indication of how much to budget for your stay, per room/night. Contact us for a personal quotation for your required dates.

BB Nightly Rates From:

Deluxe Villas: £385
Baros Villas: £510
Water Villas: £575
Baros Pool Villas: £960
Premium Pool Villas: £1,025
Water Pool Villas: £1,095
Baros Residence: £1,625

The prices represent the lowest nightly rate, per room type found at this property. Actual rates will vary based on room requirement, season and availability.
Activities
Big Game Fishing

Dolphin Cruise with Champagne

Day and Night Reef Snorkelling

Sunset Fishing and Catch Your Own Dinner Experience

Spa

Water sports centre

Fitness centre

Boutique

Library
Additional Information
Baros has recently opened a beautiful over-water pool by its main restaurant 'Lime'

A live band plays twice a week in Sails Bar

Children under 8 years old are not permitted at Baros making it ideal for honeymooners and couples

Guests are urged to respect the reef and to refrain from breaking off, or even pressing, any pieces of coral.

Bespoke trips and experiences, from romantic dhoni trips to dining on a private sandbank

Private Excursions and Escapes.

Get off the island on Nooma, Baros' private dhoni. A traditional Maldivian boat, the Nooma is perfect for romantic escapes to deserted islands, or rarely visited patches of coral.
Hotel Terms
Cancellation Policy:
Cancellation within 35 to 25 days prior to the date of arrival 50 % of the total will be charged Cancellation within 24 to 16 days prior to the date of arrival 75 % of the total will be charged

Cancellation within 16 days to the date of arrival & during stay 100% of the total will be charged including transfers.

All no show booking will be charged for the total stay on the board basis booked