Warning: count(): Parameter must be an array or an object that implements Countable in /var/www/html/global_inc/aws/GuzzleHttp/Handler/CurlFactory.php on line 67

Ayada Maldives - Maguhdhuvaa Island, Maldives
Find a hotel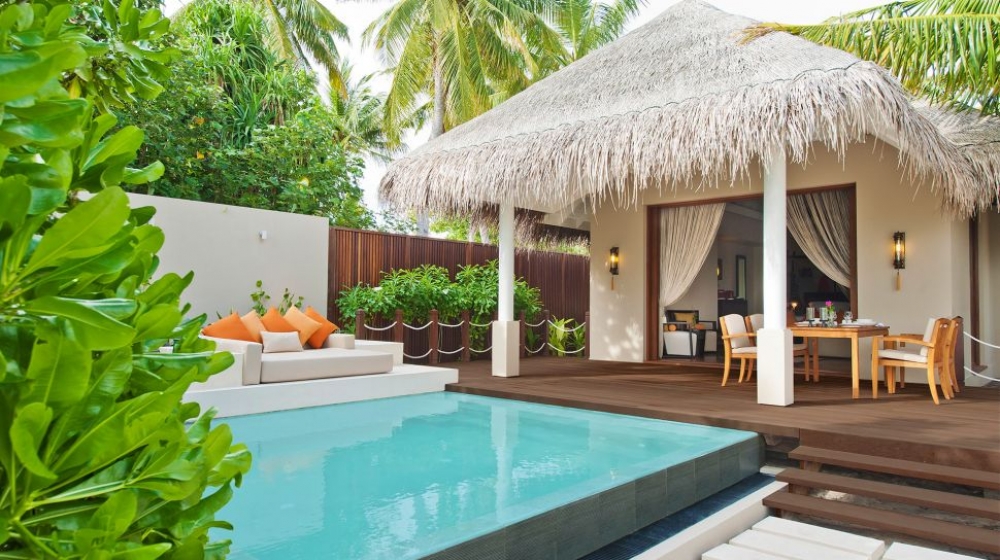 Overview
From the moment you arrive on the resort's delicate, powder white sands you will be immersed in a fantasy of luxury, quality and style unique only to Ayada Maldives. This is a truly awe-inspiring destination with pandering butlers, palm-fringed turquoise waters and secluded water villas.
Ayada Maldives is a resort with natural beauty at its heart where you can truly discover the exceptional. From unique experiences of snorkelling and diving in one of the most unspoiled locations in the world to simply relaxing and relishing the views of the azure Indian Ocean from your private pool and terrace.
Delight in the impeccable service and superb amenities of the seven indulgent restaurants, bars and cafes offering world-class cuisine to tantalise taste buds, the extensive 3,500 square metre AySpa to take you to a blissful level of relaxation as well as a kids' club, scuba diving centre and an array of water sports.
Ayada Maldives is the ideal destination for a celebration. Whether you prefer a private candle lit dinner on the beach, a sumptuous picnic under the stars or renewing your vows, the team at Ayada Maldives is committed to ensuring that they deliver an enchanting and memorable experience.
This is a blissful resort, where the reality surpasses all expectations!
Know Before You Go
Rooms:
Showcasing the majesty of the natural surroundings, Ayada Maldives offers seven luxury accommodation types, all of which bring together contemporary with traditional Maldivian and Turkish design elements.
The stilted water villas have each been carefully placed on the uniquely shaped jetty to capture magnificent views of the endless horizon whilst the beach villas offer an enclave of absolute privacy and serenity less than 30 steps from the Indian Ocean.
Forget all your cares with the attentive yet unobtrusive services of a 24 hour butler and their extensive knowledge of the magical destination and the resort's quality facilities.
The resort comprises 33 Beach Villas, 4 Family Beach Suites,14 Sunset Beach Suites, 33 Ocean Villas, 11 Sunset Lagoon Suites, 14 Sunset Ocean Suites, 2 Family Ocean Suites.
Facilities:
Lounge/Bar
Private Dining Room
Private/Suite Pools
Restaurant(s)
Spa
Spa Services
Swimming Pool - Outdoor
Bottled Water in Room
DVD Player
Flat Screen TV
Front Desk
High Speed Internet (Wireless)
In-room safe
iPod dock in rooms
Outdoor Dining & Lounging Area
Welcome Amenity
Features:
To delight the body and mind, take pleasure from the nurturing effects of water united with healing earth elements at the exceptional 3,500 square metre nirvana of the Ayada Maldives' AySpa, designed leading spa experts.
Along with eight treatment villas, the spa also offers a private Hammam, steam room, sauna and hydro bath. The cool relaxation lounges and health bar complete this private sanctuary of calm and tranquillity.
Dining:
Revel in the exquisite culinary journeys and unparalleled service in a stylish yet casual atmosphere at the resort's three enticing restaurants, which showcase diverse international cuisine that draws on many influences; from Mediterranean specialities to exciting Asian flavours.
Admire the perfect sunset amongst the ocean villas from the resort's unique Wine and Cheese Island, where you can sample an extensive selection of quality wines or indulge in the exotic flavours and aromas of speciality coffees, teas and shisha in the authentic Turkish Cafe.
The Pool Bar is the right place to be, if you seek a vibrant atmosphere, where you can relax during the day and hang out at nights, as the bar is transformed into a dance venue for the evenings, with joyful entertainment.
Hotel Rates
The guide prices shown provide a broad indication of how much to budget for your stay, per room/night. Contact us for a personal quotation for your required dates.

HB Nightly Rates From*:

Beach Villa: £585
Beach Suite: £680
Sunset Beach Suite: £725
Ocean Villa: £770
Sunset Lagoon Suite: £855
Sunset Ocean Suite: £945
Ayada Royal Ocean Suite: £4,750

The prices represent the lowest nightly rate, per room type found at this property. Actual rates will vary based on room requirement, season and availability.

*For listed rates to apply, a minimum length of stay of three (3) nights is required.
Activities
Infinity-edge beachfront swimming pool

3,500 sqm SPA with eight treatment villas

Turkish Hammam with plunge pools

Flood-lit tennis court, mini football, volleyball and badminton courts

Water sports centre offering an extensive variety of activities along with surfing and sailing

Fully equipped fitness centre with cardio-vascular stations, resistance machines and free weights

Kids club and babysitting services

In-house resort photographer to document your special moments

Yoga Studio

Excursions
Additional Information
Complimentary snorkel and fins are available from the dive center for your use during your stay at Ayada Maldives. Please contact the dive center by pressing the "Below The Surface" button on your telephone or your Butler or GRA for more information on the best snorkeling spots around our island.

Take a gentle tour of the island from the ocean on our ocean paddle boats either on a single or double canoe and enjoy the beauty of the sea with the glass bottom canoes.

The mild winds and the shallow lagoon provide for the perfect conditions for wind surfing

A variety of snorkeling excursions are on offer at Ayada Maldives, each specifically designed to showcase the beauty and diversity of our coral reef or to reefs nearby that are abundant with unique and delightful marine life

Ayada Maldives offers an extensive list of excursions that will showcase the finest and authentic Maldivian experiences. Ranging from sunset cruises, fishing trips and genuine island excursions to inhabited islands

Luxury and serenity come together on our Moonlight Cruise, where we invite you to relax on the upper deck and enjoy the champagne and canapés on offer.

Ayada Maldives provides the complete experience by offering a variety of options and services for vacationing families. Ranging from the accommodation, to the dining and to a dedicated kid's club, a fun filled, family adventure is on offer at Ayada Maldives.

Ayada is the perfect choice for a special celebration or for a truly memorable wedding
Hotel Terms
MEAL BASIS
• The rates are based on Half Board.
• Multi-board meal plan is not applicable. Each reservation must have single meal plan for entire stay.
• Any meal plan that is not consumed and included in the room rate cannot be deducted from the final bill or refunded.
• In-villa dining is not included and is subject to additional charge.
• Infants and children up to 6 years old are free of charge for open buffet breakfast & dinner.
DINE AROUND
• Guests are eligible for a complimentary upgrade for one (1) night of their choice to a three course set dinner menu in either our Pan-Asian Kai Restaurant or our Mediterranean inspired Ocean Breeze restaurant for stays of minimum four (4) nights or more. For stays of more than seven (7) nights guest may upgrade on two nights.

Cancellation Policy:
Cancellation within 35 to 25 days prior to the date of arrival 50 % of the total will be charged

Cancellation within 24 to 21 days prior to the date of arrival 75 % of the total will be charged

Cancellation within 20 days to the date of arrival & during stay 100% of the total will be charged including transfers All no show booking will be charged for the total stay on the basis booked

Festive Season:
Cancellation within 60 days to the date of arrival & during stay 100% of the total will be charged including transfers All no show booking will be charged for the total stay on the basis booked