Warning: count(): Parameter must be an array or an object that implements Countable in /var/www/html/global_inc/aws/GuzzleHttp/Handler/CurlFactory.php on line 67

Alila Manggis - Bali, Indonesia
Find a hotel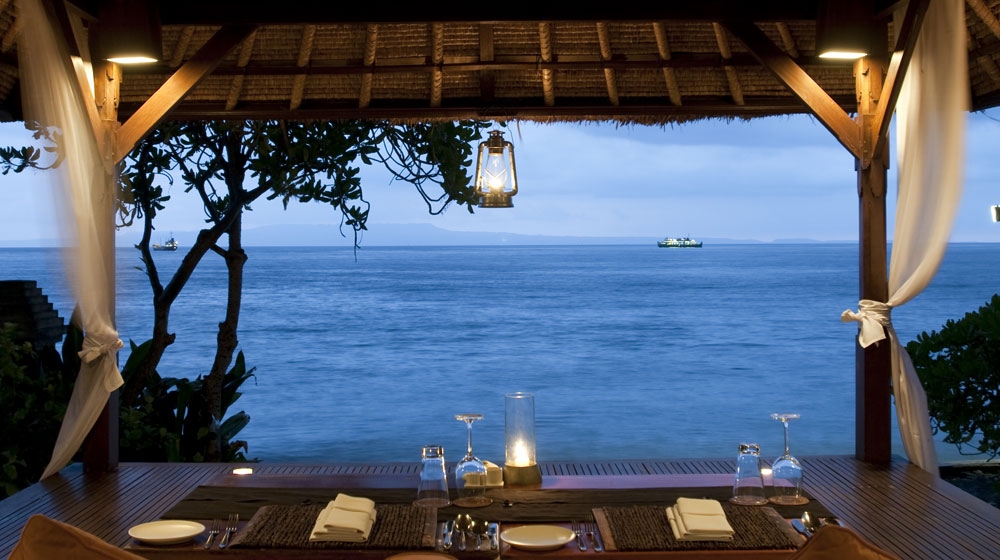 Overview
One of Baliís best kept secrets, Alila Manggis boutique hotel is a secluded, stylish resort situated in Manggis. Set amidst a coconut grove, the resort is nestled between the sea and the majestic Mount Agung, Baliís most sacred mountain. A luxury beach hotel with a cool vibe.
A contemporary interpretation of traditional Balinese architecture is artfully combined with modern amenities to create a relaxed environment in harmony with its natural surroundings. World-renowned architectural firm Kerry Hillís interplay of light, water, plants and geometry result in details which never fail to excite the eye. The four 2-storey buildings are built around a palm-fringed pool which looks onto the ocean.
Know Before You Go
Rooms:
The 53 rooms and two corner suites of Alila Manggis are housed in traditional two-storey thatched Balinese pavillions reminiscent of the village Wantilan or meeting hall. The Superior rooms, located on the lower floor of each block, boast a private terrace while the Deluxe rooms on the upper level have a balcony with day beds. All the rooms are designed to maximize the views across the coconut grove, the swimming pool and the sea.
The two spacious Suites are situated on the upper level of the building closest to the beach. Large balconies surround the suites and serve as an outdoor dining area or sundeck. The spacious Suites include a living and dining area. The bathroom includes bathtub, separate shower and dressing room.
Facilities:
The swimming pool is a central feature of the resort and is designed as an unusual inverted pyramid. This creates shallow waters around the edges and deep water in the middle. Set in landscaped gardens under swaying coconut palms, it provides the perfect place to lay back and enjoy the resort's peaceful, sunny environment.
Spa Alila offers a uniquely relaxing experience featuring traditional Indonesian and Balinese treatments, from facials to aromatherapy massage. New at Alila Manggis are two outdoor spa bales located right on the grounds of the Pandan Forest, facing the sea and offering a haven to rebalance your mind and body.
The hotel has its own leisure concierge where guests can book trips to local attractions and excursions, from whitewater rafting to deep-sea fishing.
Features:
Alila Manggis Wedding Experience: Alila Manggis has the perfect setting for an intimate wedding. You are warmly invited to experience the tranquil and inspiring surroundings amidst the beauty and tradition of Bali. Ceremonies can be organised on the grounds within tropical gardens, under the coconut grove and by the sea at Alila Manggis. With advance preparation, Alila Manggis can prepare for its guests a traditional wedding ceremony, the Balinese nuptial blessing, bridal procession, a cocktail reception and a royal Balinese dinner.
Dining:
Set in a traditional Balinese pavilion on a lotus pond, the Seasalt restaurant serves both a contemporary menu and a range of Indonesian and Balinese food favourites.
Hotel Rates
Superior Room: From Ä 123 per room/night
Deluxe Room: From Ä 143 per room/night
Seaside Suite: From Ä 287 per room/night
Activities
Diving, snorkelling and water sports

Spa Alila experience

Cooking school and classes

Balinese healer/astrology

Rafting, cycling and hiking in the shadow of Mount Agung

Yoga and Tai Chi
Additional Information
Alila Manggis is famed for its Cooking School specialising in East Balinese cuisine and its wondrous dive sites off Manggis.

Organised treks to Mount Agun, Bali's most sacred mountain.

Family friendly. Children are welcome to stay, but the hotel does not have any specific facilities.

Organic fruit and vegetable garden