Hotels in Greece, Europe
Discover our cool collection of boutique and luxury hotels in Greece. From romantic retreats to hip hideaways, whatever your travel style, enjoy Perfectly Chilled Hotels.
Santorini
,
Greece
Once you visit this luxury boutique hotel Aenaon villas and experience the warm hospitality of this fabulous place, you want to come back time and time again.When the island of Santorini is your destination, it will become a destination for life. A boutique hotel with a chilled-out vibe.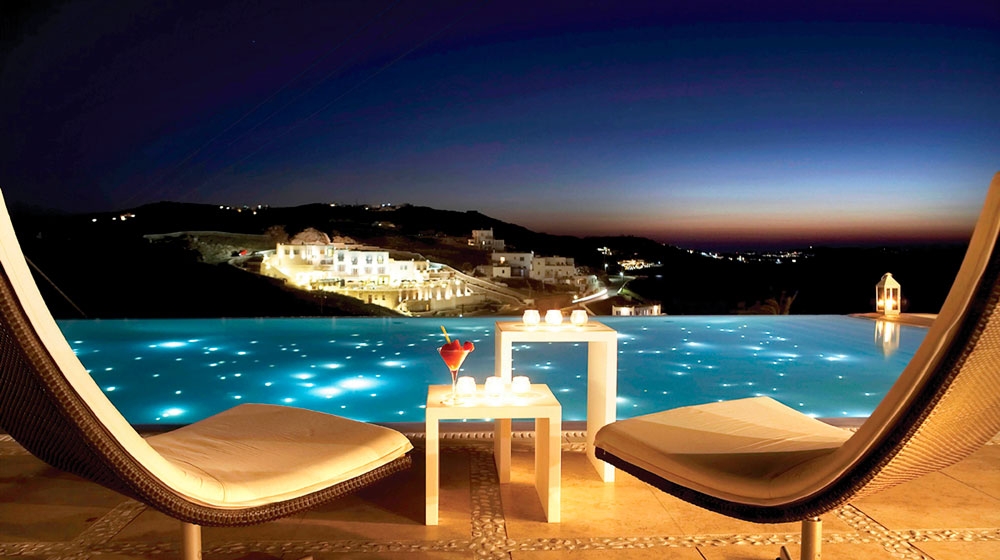 Mykonos
,
Greece
The uber stylish Bill & Coo boutique hotel simply oozes romance. There's nothing pretentious about this luxury hotel, it's just effortlessly beautiful, cleverly designed and becomes atmospheric at night, as the infinity pool is perfect for romantic sundowners.
Mykonos
,
Greece
Apanema boutique hotel is the ideal refuge for those looking for a romantic atmosphere with a unique panorama over the Aegean Sea.This hip hideaway is the perfect chill-out escape for city dwellers looking for a little gem of a hotel with bags of charm.
Santorini
,
Greece
This cliff-top boutique hotel on the island of Santorini offers a new concept of sanctuary, with just four cool suites that have a unique and individual personality. Each luxury suite has a pool or jacuzzi with stunning sea views from its private terrace.
Santorini
,
Greece
Gold Suites is a hip boutique hideaway hotel nestled on the edge of the village of Imerovigli, overlooking exquisite blue waters and surrounded by crisp white Cycladic architecture. Gold Suites boutique hotel is a haven of serene seclusion.
Santorini
,
Greece
In a unique setting with a breathtaking volcanic views, lies the Absolute Bliss boutique hotel. On the highest point of Santorini, this stylish and romantic hotel rewards guests with fabulous sunsets and wonderful hospitality.
Mykonos
,
Greece
Situated above a cliff, the five star Cavo Tagoo boutique hotel is a luxury boutique hotel with fantastic views of the Aegean sea and the island of Delos in the distance. This chic retreat is perfect for chilled getaways and romantic escapes. A chilled-out hotel with a cool vibe.
Mykonos
,
Greece
Greco Philia is a chic coastal luxury hotel with bags of flair. This stylish collection of eco-friendly suites and villas overlooks the bay of Cavo Elia. Perched on the low cliffs, the raw stone walls and white borders blend in perfectly with the rocky terrain.
Mykonos
,
Greece
San Giorgio boutique hotel, Mykonos is uber boho cool, laid back and brimming with style and flair. Occupying an enviable location between Paradise Beach and Paraga Beach, this boutique hotel is moments from the sublime sands and offers breathtaking views of the azure sea. A truly hip hideaway!
Mykonos
,
Greece
Overlooking the spellbinding sea, Kivotos Hotel nestles on the edge of Mykonos. A unique complex of luxurious rooms, elegant suites and a private villa, Kivotos is the epitome of style and opulence. A boutique hotel in a fabulous setting.
Mykonos
,
Greece
Mykonos Blu, a Grecotel Exclusive Resort, simply redefines the standards for sophistication on the most chic and cosmopolitan Mediterranean island. An extraordinary gem constructed in the purest style of the Cyclades. This stylish boutique hotel is seriously sexy and is perfect for honeymoons.
Crete
,
Greece
Paradise Island Villas is a gorgeous chic boutique hotel, that combines elegance and contemporary style in a collection of twelve stylish villas, each one having it's own private pool and garden. The perfect choice for families or groups of friends who like to holiday together.