Hotels in Italy, Europe
Discover our cool collection of boutique and luxury hotels in Italy. From romantic retreats to hip hideaways, whatever your travel style, enjoy Perfectly Chilled Hotels.
Tuscany
,
Italy
Villa Sassolini is a charming 15th century palazzo with a stylish contemporary twist, majestically positioned in the small and ancient Tuscan hamlet of Moncioni with breathtaking views of the Monti del Chianti and the Arno Valley below. Fizzing with romantic touches, Sassolini is seriously sexy!
Rome
,
Italy
Nestled in the heart of the old city center of Rome, Hotel Gigli d'Oro Suitel conveys the feeling of a boutique hotel. An entire traditional 15th century medieval palace that still conveys the flair of an old Roman residence. Gigli is a chic city hideaway.
Tuscany
,
Italy
Boutique Hotel Le Fontanelle Tuscany, is located in deep in the heart of Chianti Classico region, capturing the magical essence of Tuscany and offering breathtaking views across the rolling hills, olive groves and vineyards.
Venice
,
Italy
Charming House DD724 is a cool and very contemporary boutique hotel in the heart of Venice, in one of the most peaceful quarters of the city. Hidden in a little alleyway , this uber cool hotel rewards visitors with a rather special vibe.The perfect stylish chic urban escape.
Sardinia
,
Italy
The Petra Segreta Resort & Spa is a luxury boutique hotel in glorious Sardinia and sits close to the pretty village of San Pantaleo. This rural retreat welcomes guests into sun-kissed serenity and is surrounded by sweeping countryside, yet the beaches are close by for coastal adventures
MIlan
,
Italy
Enterprise Hotel is the boutique city hotel that best represents Milan's creative and innovative spirit, with its ideal combination of inventive design and traditional service.
Rates from £59 per night ·
City Chic
· 123 rooms
Rome
,
Italy
Welcome to a private oasis in the heart of Rome. Boutique hotel Mario de' Fiori 37 perfectly marries traditional Roman design with contemporary style and comfort. This is a hip hideaway for urban explorers.
Rates from £102 per night ·
City Chic
· 7 rooms
Rome
,
Italy
A luxury boutique B&B in the heart of Rome, overlooking the prestigious Porta del Popolo. Housed on the third floor of a beautiful building, the Casa Montani is managed directly by the owners who have put their heart and soul into every detail.
Rates from £90 per night ·
City Chic
· 5 rooms
Puglia
,
Italy
Set on a 19th-century farm and surrounded by olive groves, the sublime boutique hotel Masseria Fumarola is a collection of iconic sparkling white trulli buildings. This is the perfect place to unwind in a stunning setting that is brimming with character and will delight all the senses.
Rome
,
Italy
A few steps from the luxurious Villa Borghese and the chic shopping of Via Veneto, the luxury boutique Hotel Lord Byron, is the perfect choice for those looking for a stylish getaway and fine dining delights. This art deco hotel is close to the bustling heart of the city, yet in a secluded setting.
Rates from £133 per night ·
City Chic
· 32 rooms
Tuscany
,
Italy
Follonico is a delightfully quirky boutique B&B in the middle of the Tuscan countryside. This beautifully restored farmhouse has a feel of home from home. With traditional decor and eccentric touches- old typewriters, vintage toys and even an old wedding dress grace the rooms. A real hip hideaway!
Puglia
,
Italy
A rustic farmhouse set in an ancient olive grove, the Masseria Torre Maizza is now a hip, chic and contemporary retreat. Smell the perfume of Mediterranean bushes as you laze by the pool or relax in the sleek Aveda spa.
Milan
,
Italy
Hotel Straf is a luxury hotel with a cool city vibe. A creative fusion of minimalist design and traditional architectural elements. Come and enjoy an unconventional hotel in the heart of Milan, one of the world's shopping hotspots! A great destination for the style conscious traveller.
Rates from £144 per night ·
City Chic
· 64 rooms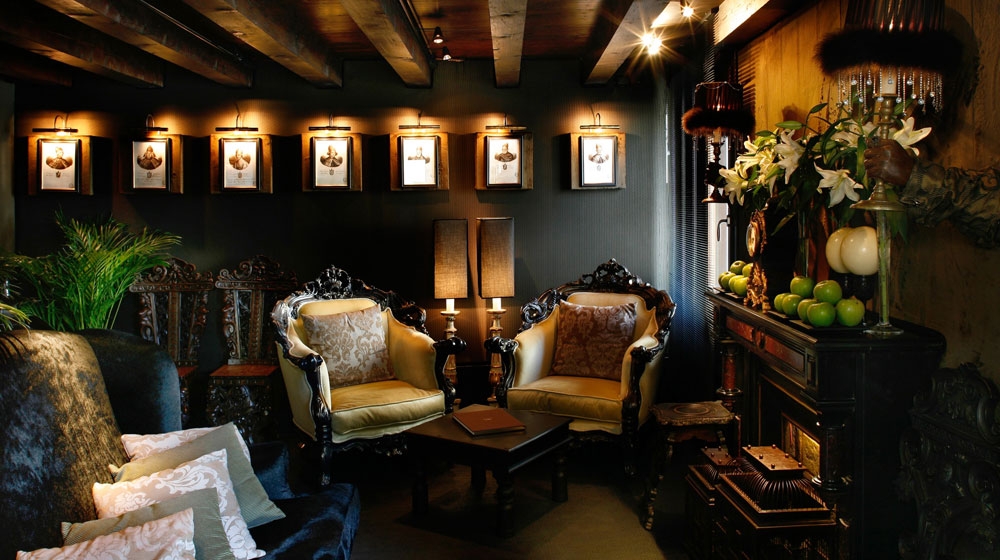 Venice
,
Italy
Glorious boutique hotel Ca Maria Adele rewards guests with it's enviable location in one of Venice's most delightful and tranquil areas.This luxury hotel hideaway is the perfect choice for romantic getaways. Discover your inner cupid in what has to be one of the most romantic places in the world.
Rome
,
Italy
The stylish boutique hotel, Crossing Condotti, offers intimate and discrete hospitality. Five different enchanting rooms are sprinkled with antique furnishings and all the contemporary touches to satisfy our guests' every wish. A boutique city hideaway with bags of charm.